With so many jewelry stores in the market, it can be difficult to find the right specialist, a jeweler that you both trust and who is a real expert in their craft.
You want someone who has extensive knowledge so that they can point you in the right direction within your budget. This is particularly true when you are looking for the best diamond for a wedding or engagement ring.
Jewelry says a lot about the wearer and the person who bought it, and you want to make sure that you are getting what you paid for, and that includes the necessary information about the piece. From the setting to the stone to the symbolism, a fine jeweler can give you all the details you need to make the right choice and make sure you're getting the best quality and the best value.
To ensure you find the right jeweler for your needs, here are the things to look for from your fine jeweler.
Awards
Just like every other industry, experts in fine jewelry have been acknowledged for their skills, knowledge, and customer care. This is particularly true in jewelry because of the rich history in the industry, spanning several centuries.
Fine jewelers may not be seeking the recognition, but if you find a jeweler who has won numerous awards, you know that particular jeweler is an expert, and you can expect a much greater wealth of knowledge from working with them.  
The more recent the rewards, the more current the jewelers will be with the latest trends, as well as the likelihood that they will have extensive knowledge of the older pieces and jewelry eras. Look for a jeweler who has received continued recognition by leaders in the industry (such as the Gemological Institute of America or the American Gem Society) and local media awards, which shows excellence in customer service.
Similarly, consider fine jewelers who have proven longevity. Simply put, a jeweler that stands the test of time encourages trust. And if that jeweler has really good Google Reviews (including recent ones), and other social media and Yelp reviews, chances are you are looking at a quality fine jewelry store.
Original Jewelry, Exclusive Brands & Coveted Designers
While chain jewelers have exclusive lines, the pieces are available at any store. Other jewelers will have similar pieces and designers. Some of the best fine jewelers offer a much greater range of pieces, including rarer pieces, coveted designers, and even original jewelry designed in-house.
Fine jewelers are not looking to sell things in bulk; instead, they focus on the craft and getting unique pieces that have a richer history. This means you are more likely to find something that no one else will have, or at least something that is unique and harder to find.  
Both a Fine Jeweler and Official Luxury Watch Dealer
Jewelry and watches have long been sold together because high end watches often include jewels and extra workmanship that makes them more unique and interesting.


A fine jewelry dealer who is also an official Rolex jeweler is one that has gone through an arduous process and proven that they are worthy of the respect the brand commands. Those who take the time have shown how dedicated they are to satisfy their customers' needs and to provide the finest in luxury watches, along with highly skilled jewelers or watchmakers who are certified to repair Rolex watches and other luxury brands.
Henne Jewelers became an official Rolex jeweler in 1999 following a two-year process. It continues to be one of our most coveted and highly sought-after brands. We are one of only three official Rolex jewelers in the Pittsburgh market.
Watch Repair Services
A fine jeweler typically also offers jewelry repair services as well.
Watch technology is only getting more complicated and with so many small parts and things that can break or wear out, a company that also has the resources to fix watches shows that they are not just there to make money providing common services. Instead of having to send the watch away, having on-site watch repair allows for quicker service at a lower cost to the customer.
Luxury watch repair is comparable to resizing and other services that come with a good jewelry shop. Selling watches without having onsite watch repair can make it far more difficult for patrons to get a watch mended if something happens. At the least, that jeweler would need to send the watch back to the manufacturer.  
We are proud to say that we have a newly renovated, state-of-the-art watch repair center on-site – a project we completed working in conjunction with Rolex. Our master watchmaker has over 40 years of experience and can fix nearly anything right here in our store.
What that means to you? We can save you time, money, and offer peace of mind knowing that your watch is here on the premises and receiving the best in service.
Custom Jewelry Design Services
The best fine jewelers go beyond just selling jewelry; they can make nearly anything you want a reality. They have experts on-hand who can rework pieces or design something completely new for their customers.
Fine jewelers will have diamonds available for you to look over and choose from for just the right stone for your engagement ring. Once you have the right stone, you can work with a talented sales associate to choose or make the perfect setting. Perhaps you have a stone that you want reworked to fit into a new setting or a family heirloom that you would like to rework or partially imitate.
A fine jeweler that has a custom jewelry designer can provide those services so that any special moment and jewelry is more personal and unique.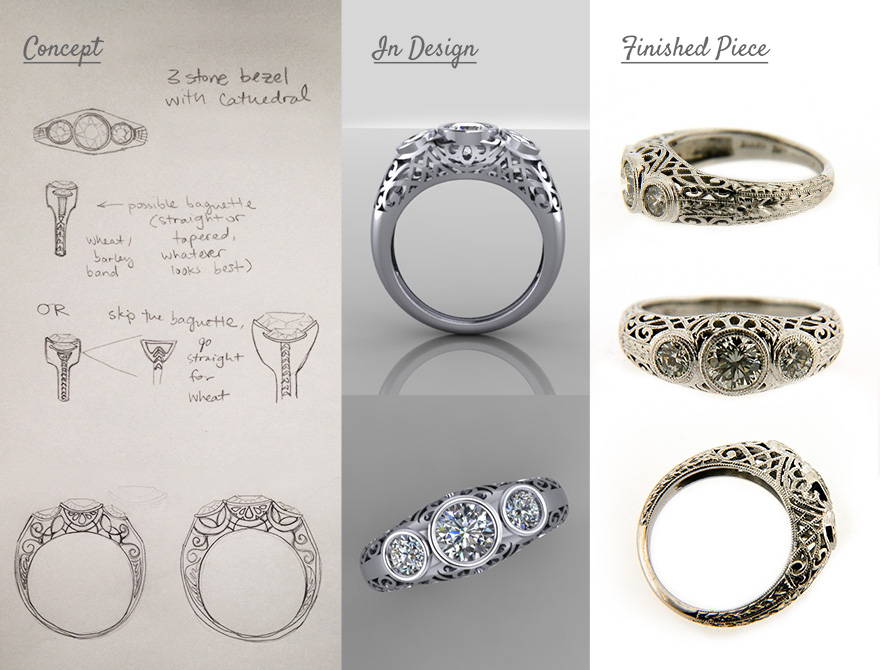 Finding the Right Store
Finding the right fine jewelry store can take a little time, but ultimately it is worth it.
From helping you determine just the right jewelry for your special occasion to providing their expertise on luxury watches and making repairs to any of your valuable pieces, you can find a dependable, knowledgeable dealer for your accessories.
Usually you won't have to look too hard because the fine jewelers stand out from the other jewelry sellers. Look for recognition in their fields and awards, hard to find jewelry and on-site design and repair services. These are definite signs that can help you determine the right jeweler for your every need.
---