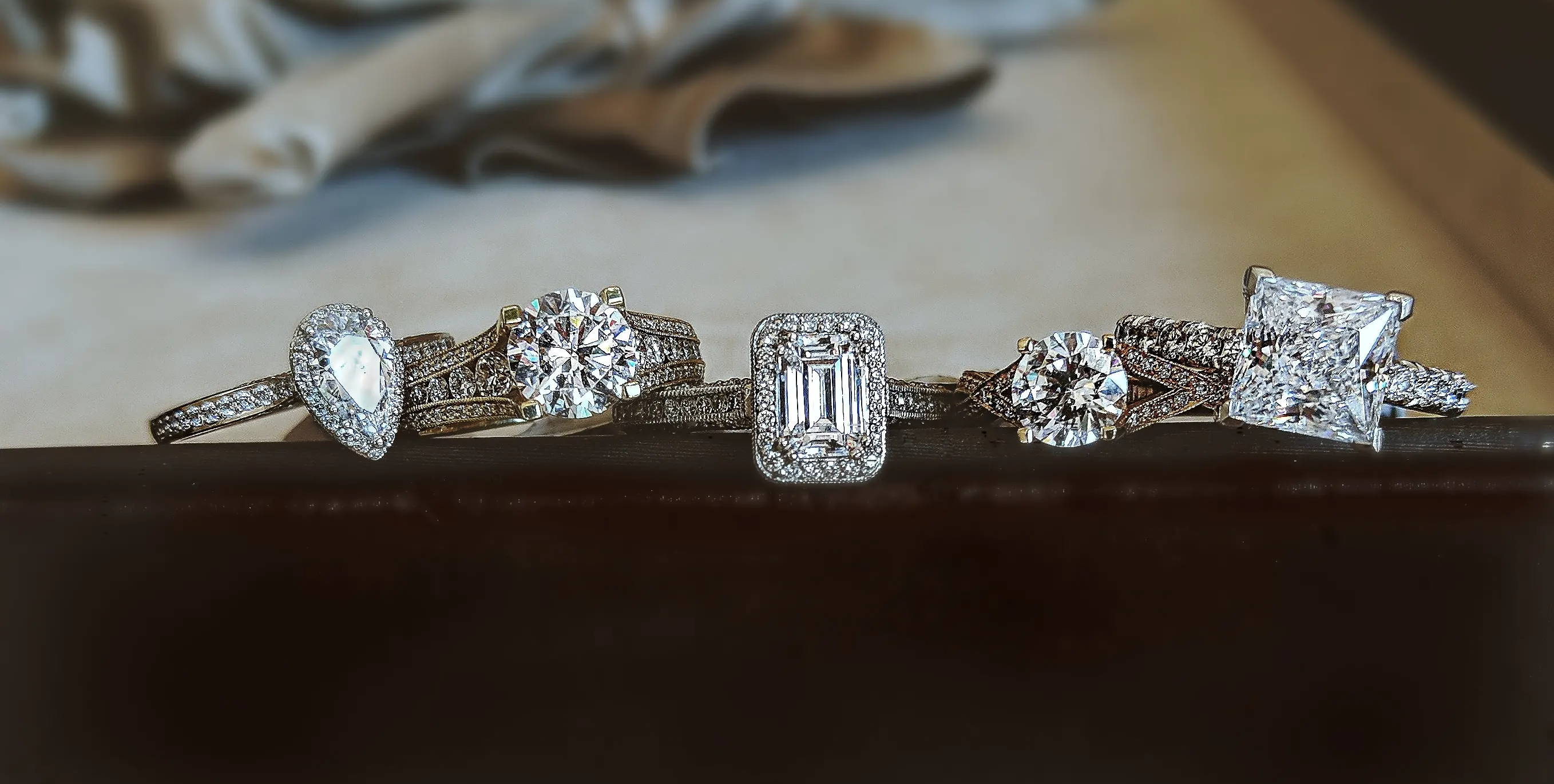 At Henne Jewelers we provide numerous services for customers. One of our most requested services is a jewelry appraisal, and we receive dozens of questions about the process. So, we asked Jennifer Zappa, our Jewelry Appraiser, to answer those questions. Here's what she had to say!
Q: Do I need jewelry insurance?
In most circumstances, yes. Most insurance companies have a limit on how much jewelry is covered through the basic homeowners policy. Those limits are generally pretty low, often times only $2,500 or $5,000. So if you have one item or multiple items over $5,000 in value and you would like it to be insured, you need to get a separate rider either through your homeowners insurance provider or a separate third party jewelry insurer. If you have a rider for the jewelry and it is specifically identified, the insurance company typically covers it due to theft, loss or damage. At Henne we have jewelry insurance options available to you, so check with your sales associate to learn more.
Q: What if the insured value is incorrect?
If your ring's value was overinflated, you could spend more than necessary to insure your piece. Or, the reverse could mean you're underinsured and may incur additional out-of-pocket expenses to repair or replace jewelry that becomes damaged or lost. Insuring your jewelry for its current retail replacement value is vital for repair or replacement.
Q: So where does an appraisal come in?
An appraisal ensures that you will receive the full replacement value (or what is covered in the terms of your policy), should you need to file a claim. Without an appraisal, you aren't guaranteed the full replacement value, and it can create a lot of stress and headaches during the insurance claim process.
Unlike car insurance, you're not required to have insurance for your jewelry. So if you're going to make the (smart) choice to invest time and money into jewelry insurance, make sure it's for the right amount by getting a quality appraisal with a reputable jeweler.
Q: When would I need a jewelry appraisal?
Times you will need a jewelry appraisal include purchasing new jewelry that will need to be added to the insurance policy, updating previous pieces, estate planning and distribution following a loved one's passing, division of property for a divorce, tax deductions for charitable contributions, and liquidating assets.
Q: How long does an appraisal typically take, and how much does it cost?
Henne's fees start at $150 per item; with multiple items we will discuss an hourly fee. The time to assess varies greatly, but on average a few pieces may take 2-3 hours. A simple gold ring or chain takes just a few minutes, but an intricate piece with multiple gemstones can take several hours to be appraised. Large estates may require 30-40 hours to appraise. We can do appraisals for new jewelry purchased at Henne. The topic usually comes up as you work with your sales associate, so if you want one we will issue the appraisal to be picked up with the new purchase (but we can do an appraisal at a later point in time as well).
Q: How often do I need to have my jewelry appraised?
We recommend checking the value of your jewelry every 5-7 years, but check with your insurance company. Many insurance companies require updates when you move or get a new policy.
Q: How does Henne appraise jewelry for a customer?
Henne undergoes a comprehensive evaluation of the jewelry, including:
Primary stone identification and quality grades (color, clarity, carat weight, and cut). If gemstones are set into the mounting, the gemologist will give an approximate weight determined by a formula; if they are unmounted, they will be an exact weight.
Estimating all other secondary stones
Type of metal used and metal purity tested
Identification of manufacturer when the trademark is legible
Identifying laser inscriptions that are associated with diamond certification
Condition of the item
Documentation on whether the gemstones received any treatments
Research and calculation of the value (retail, estate, or fair market) of the piece
Photograph(s) of your jewelry
Once documented, Jennifer prepares the appraisal based on her findings. Usually the appraisal is provided as a hard copy or electronic as requested when you come to pick up your jewelry.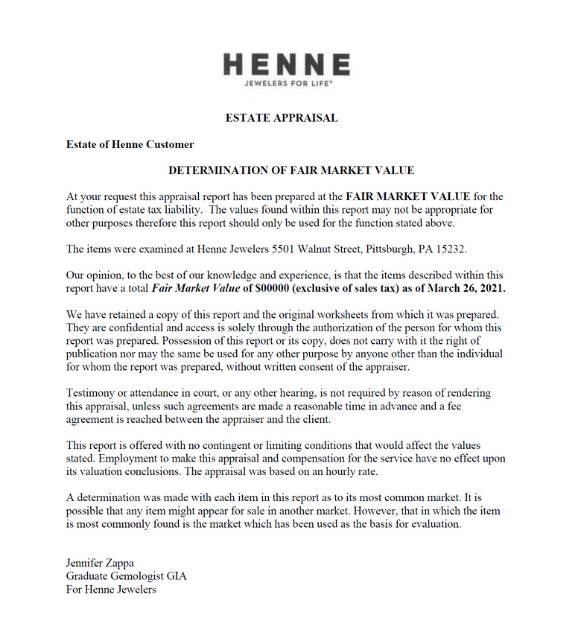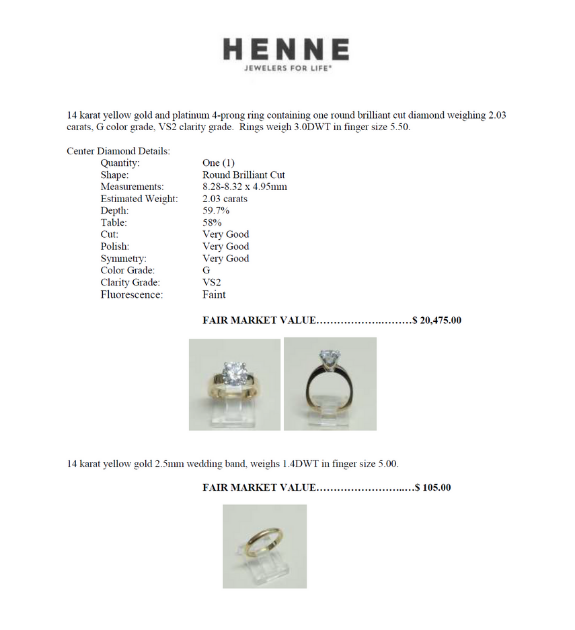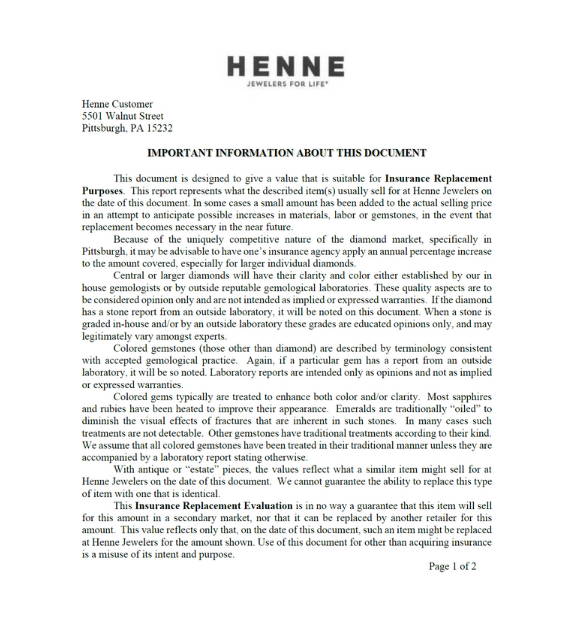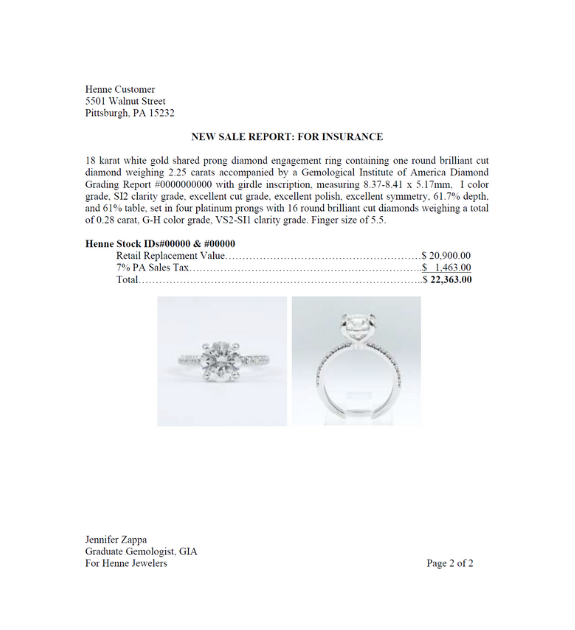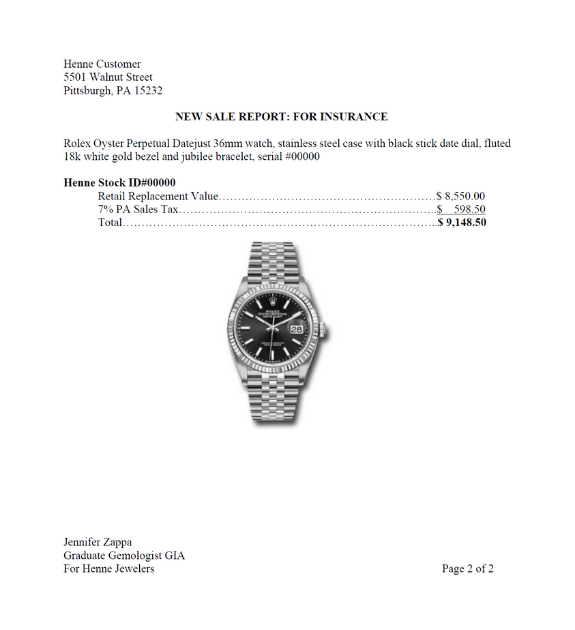 Q: How many appraisals does Henne process?
We produce appraisal reports for more than 500 watches and pieces of jewelry that we've sold each year, most commonly Rolex timepieces, engagement rings, anniversary bands, and other fine jewelry. We also conduct appraisals of pieces not purchased at Henne, items that need an updated appraisal, settlement for estates, divorces, etc. Combined we appraise more than 600 pieces of jewelry and watches each year. One appraisal can include 50, 100, or even 200 pieces!
Q: How do I get started with a jewelry appraisal?
All you need to do is call or email Henne Jewelers. We'll get some basic information from you and then set up an in-store appointment to see the items and review the reason for the appraisal. Then we can give a cost estimate for the appraisal, and the time we'll need to complete it.
About Henne Jewelers' Jewelry Appraiser
Jennifer Zappa has been in the jewelry industry for 30 years and has extensive experience in various aspects of a fine jewelry business, including sales, customer service, diamond inventory, and appraisals.
Jennifer attended the Gemological Institute of America in California in 1990 to become a Graduate Gemologist. Following her graduation, she worked at Goldstock Jewelers for 25 years. When Goldstock decided to close, she transitioned to Henne Jewelers and has been with us serving customers for 2 years.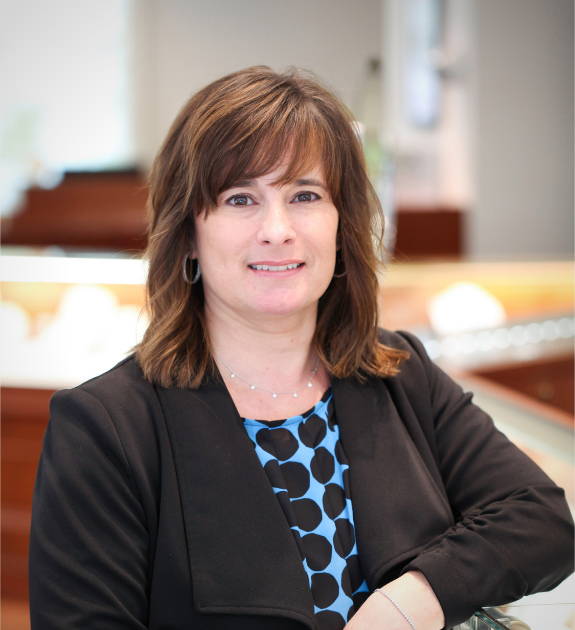 ---