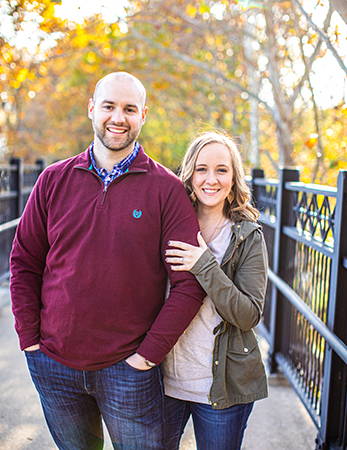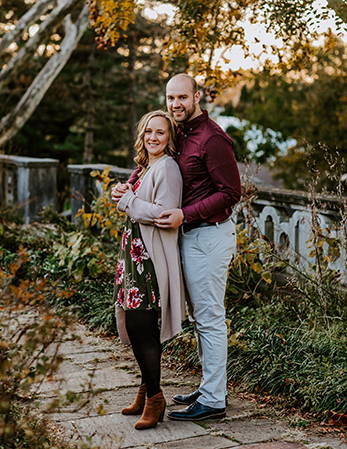 How they met
---
Sam and Amy met at a wedding in November of 2018. Amy was a bridesmaid, and Sam was just a guest. During the dinner reception, Amy came to visit a couple friends and her date for the evening. Coincidentally, Sam was sitting at the same table and the two were introduced. As the evening went on, Sam noticed Amy was spending a lot of time at his table, but was talking to him more than she was talking to her own date. On top of that, the Best Man was trying to make some moves on Amy as well. When it was revealed Sam and Amy are seven years apart, Sam decided it was best to just sit back, not try to initiate anything, and let the evening play out.
Sam thought that would be the end of it, but little did he know that Amy had agreed to volunteer with their church's high school youth group for their annual Fall Retreat the following weekend. After the retreat, Amy joined the team as a full-time leader and the two began to see each other on a weekly basis. Over the next couple months, Sam and Amy got the opportunity to observe and interact with each other in a very 'low-pressure/no-expectations' setting. They had a ministry to run, and Sam did not want a relationship to get in the way of that.
God has a sense of humor though, and the more time Sam spent with Amy, the more he observed her living out her faith in an honest and admirable way. He became attracted to her wit, her honesty, and the evident fruit from her relationship with God. Soon they began to text each other regularly. Texting turned to phone calls, and phone calls turned into grabbing a drink after youth group one Sunday evening in late January. And that was the last first date for both Sam and Amy.
About the Proposal
---
In early October, Amy was scheduled to move out of her apartment. Sam was to help in moving furniture and also in securing a carpet cleaner to use in Amy's old place. Coincidentally, Sam's friend Ben has a father in-law who owned a portable carpet cleaner. He also just so happened to work at the same golf course that Sam and Amy had met at almost a year prior during a friend's wedding reception. It was perfect - Sam would propose to Amy at the same spot they had met. Sam scheduled for Ben and his wife Amanda to go out to dinner with Sam and Amy after they had finished all of the moving activities for the day. They would go pick up the carpet cleaner on the way to Ben's home and then go out to dinner together with them from there. Given all of the busyness of moving and the details that come with that, Amy did not suspect a thing.
The day had arrived! After moving furniture all afternoon, Sam and Amy were on their way to pick up a carpet cleaner and then go out to dinner with Ben and Amanda (or so Amy thought). They arrived at the golf course to pick up the carpet cleaner but before they went in to retrieve it Sam walked Amy to a garden in the center where the flag pole was. He got down on one knee and asked Amy to marry him!
As they left the golf course (without the carpet cleaner) Sam explained to Amy that there was more planned for the evening. When they arrived at Ben and Amanda's for dinner, there were lots of people already there waiting for them! Sam had planned a surprise engagement party behind the scenes! Amy saw her mom and her friend Jaye waiting for her, as well as many of their close friends. It was at this point that Amy began to cry and the emotions caught up to her. Having those two with her to celebrate her engagement was especially touching to Amy because she had recently mentioned she missed her friend Jaye, and was bummed her mother would not be able to help Amy select a wedding dress when the time came.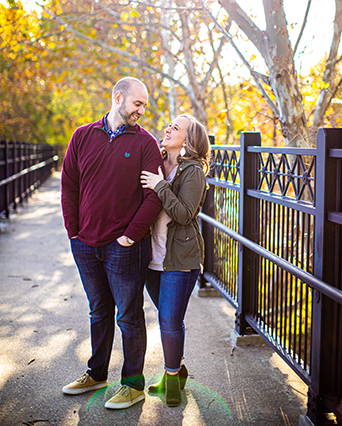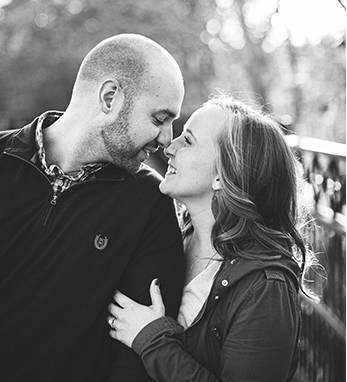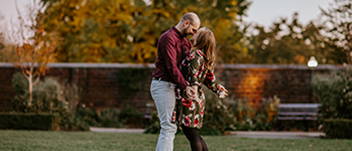 Looking Toward the Future
---
Sam and Amy will be getting married in April 2020. They will remain in Pittsburgh and enjoy life as newlyweds for a couple years before attempting to have kids and start a family.
We love celebrating our Henne couples. Thank you for sharing your #HenneMoments with us!
---