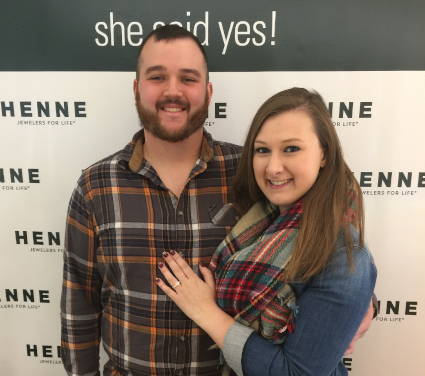 Congrats to Paul and Megan, who got engaged during the holidays at PPG Plaza!
How they met
---
It was love at first swipe. Paul and Megan initially bonded over their love of beer (he's a home brewer and introduced her to the world of craft beer). It only took a few dates to realize they were perfect for each other. After a few months of being inseparable, they decided to move in together and rescued a lab mix named Tucker!
---
About the Proposal
---
Paul and Megan talked about getting engaged for a while and came to Henne to start designing the perfect ring, so Megan knew a proposal was coming but didn't know when.
One night in November, Paul told Megan they were going to meet friends John and Emily for a nice dinner in Market Square. They'd just had a baby, so she thought they were going to celebrate with the new parents and catch up.
After dinner, they started to walk around the Christmas shops when Emily said they should go see the tree at PPG. When they got to the ice skating rink, John suggested Paul and Megan get their photo taken in front of the tree, and she gave him her phone to take the photo -- perfect cover for being able to capture the proposal!
As they posed for the photo, Paul leaned in and said, "I have a question for you," and got down on one knee and asked Megan to marry him. Of course she said yes! They spent the night celebrating and admiring the gorgeous ring that Paul designed with help from the Henne team.
Looking toward the Future
---
Paul and Megan are currently planning a wedding in October 2019 and cannot wait to start their lives together as husband and wife!
---
Paul and Megan, thanks so much for choosing Henne! We've loved being a part of your story and can't wait to hear more about your wedding plans!
---