How they met
---
Jennie and Rob met at work and then spent a few months ignoring the obvious attraction they had for each other. A group of people from work would meet up every couple weeks. Jennie was usually the one who would plan it and Rob would always end up coming out, too. Over the next 4 months, fewer and fewer people could make it until finally it was just Rob and Jennie. At that point, they finally had to admit to each other that this definitely fit the definition of dating. They gave in and haven't been apart since.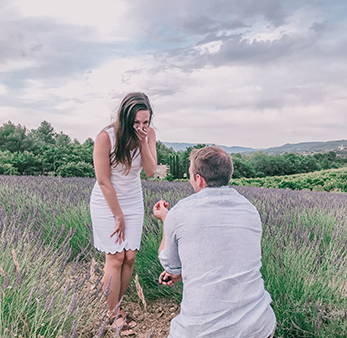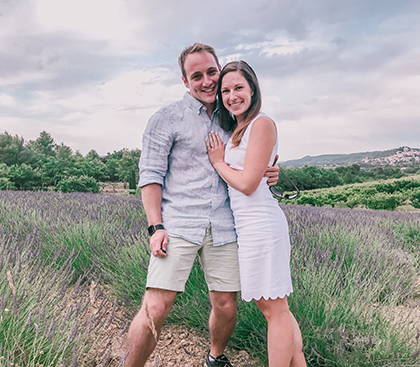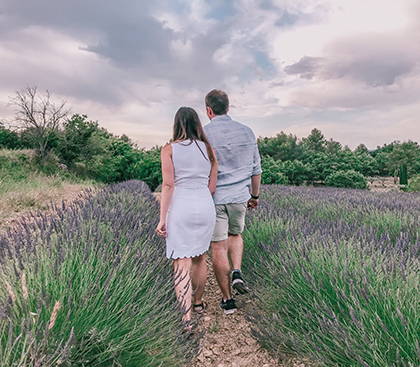 About the Proposal
---
Jennie and Rob took a trip to France last summer so that she could check the lavender fields off of her bucket list. When they drove through Provence, they knew they would be traveling early in lavender season and there was a chance that it wouldn't be in bloom yet, so Jennie and Rob stopped at the lavender museum where they were assured that they could find some blooms. What they did not know is that the eastern side of Provence is the postcard worthy fields that stretch for acres. The western side, where they were staying, is full of smaller fields tucked into the sides of cliffs.
Jennie and Rob dressed up to take pictures with the lavender, said goodnight to their adorable Airbnb host, and went out for the search. And then they searched for hours without any luck. Lavender map in hand, they were beginning to panic as the areas circled for them at the museum had no blooms. On a whim, Rob decided to go off the lavender route, taking them down dirt roads. But what a whim it was because they turned a corner and there was their field! Their little lavender field tucked in by the olive grove with Bonnieux perched on the rocky cliffs above them. Jennie and Rob were elated until they saw that a farmer was standing on the far edge of the field.
Very casually, Jennie and Rob wandered up to the far end of the flowers and she went to frolic in the lavender while Rob set up the tripod. Rob put Jennie on farmer watch, but she couldn't find him anywhere. When she turned back around, Rob was kneeling in front of her. She cried as he slid the most perfect ring onto her finger. And then she made him take a million more pictures in the lavender field they will never forget.
Looking Toward the Future
---
Jennie and Rob are eloping in the mountains in Colorado this summer. They went on their first trip there, so it seemed fitting to go back. They will be hosting a reception for their friends and family later so everyone can join in the celebration with them.
We love celebrating our Henne couples. Thank you for sharing your #HenneMoments with us!
---