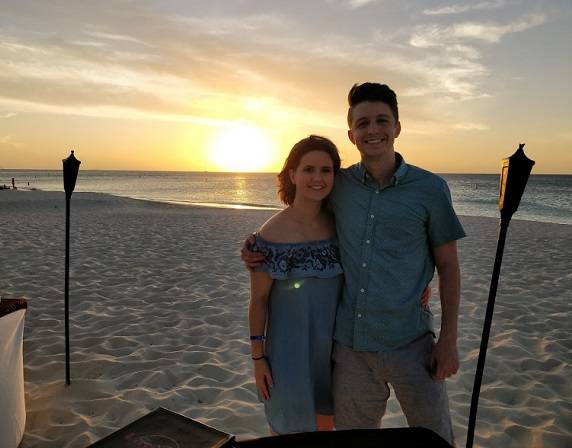 Alex was the recent winner of our first ever Instagram photo contest! She posted a ring selfie of her on the beach, and she shared the rest of her and Conner's love story.
How They Met
---
Conner and Alex met at Allegheny College when they were freshmen. They began dating during their sophomore year and have been together ever since! Today they live in Lawrenceville.
---
About the Proposal
---
Conner and Alex knew they were ready to get engaged. They looked at rings at a few different stores, but Henne was their favorite :-). Conner and Alex picked out their ring together, which they really enjoyed.

They went on vacation to Aruba in November 2017, and Conner popped the question on the second day of their trip. They had dinner on the beach, and he asked the waiter to take their picture in front of the sunset. He planned on proposing then, but there were people in the background, so later he asked the waiter for one more because he "didn't like the previous one". Alex thought it was odd because Conner doesn't normally care about things like that. When they got ready for the picture, Alex turned around and he was on one knee. They were really excited to have Conner's sweet proposal on camera.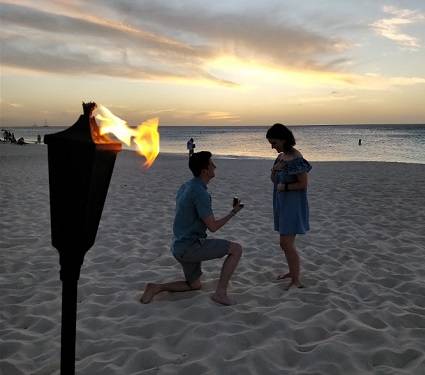 The Big Day
---
Conner and Alex will tie the knot on 6/8/19 at Iron's Mill Farmstead in New Wilmington!
Conner and Alex, thank you for trusting Henne and for sharing pictures of the sweet proposal. We wish you all the love and happiness in the world.
---