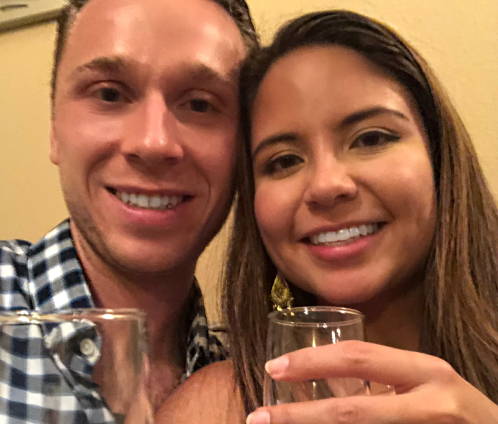 Congrats to Adam and Sandra on their engagement, which involved Sandra's beloved cat Lilie and about 15 shoelaces!
How they met
---
Adam and Sandra met in Fort Worth, TX, when they were both new to the area. They met downtown and became good friends as they explored their new city and tried lots of restaurants. After a year of being good friends, they realized they had feelings for each other...and the rest is history!
---
About the Proposal
---
Adam knew that Sandra's cat, Lilie, is the most important thing in her life, so he included her in the proposal! They went out to eat to a fancy restaurant to celebrate her 27th birthday and then came home to open presents. After she opened all of them, Adam said he had one more to give to her. She opened the box and it had a very long shoelace in it. (Shoelaces are Lilie's favorite toy. She goes crazy for them.) He tied about 15 shoelaces together, and as she pulled out the shoelace she found a question at the end of it from Lilie asking Sandra if she wanted to marry her Dad. He was holding Lilie as she pulled out the shoelace and got to the question. Then he put her down and got on one knee.
Sandra was shocked and so excited. She got the most beautiful ring, and Lilie got the longest shoelace of her life. It was a private, intimate, and perfect proposal.
Looking toward the Future
---
Adam and Sandra are currently doing long distance, so they are really happy to begin planning their future.
---
Adam, thank you so much for choosing Henne. We are so glad Sanda loves the ring you picked out for her and wish you all the best as you plan your future together!
---