By Stephanie Desmond for Henne Jewelers.
Trends come and go, but some things are timeless. No matter what is hot in Hollywood, some gems and their fall colors stand the test of time and evoke warm memories of pumpkin lattes and hayrides.
---
Be careful to check for authenticity when purchasing citrine. This lovely yellow stone is native of the US, Brazil and Russia, but most of the gems on the market are treated amethyst. Aside from being a great addition to your jewelry box, citrine is also thought to hold powers in feng shui. Using everything from citrine vases to trees to animal carvings, this gem is thought to bring wealth. It's also believed to hold healing properties in aiding digestion and improving self-esteem.
---
If you're looking for a hue true to the colors of Autumn, look no further than the fire opal. This stone is different from the common opal in that it does not exhibit a play of colors. In contrast, it exhibits a bright, fiery color that continues throughout. Oftentimes they are found in a vivid orange or red.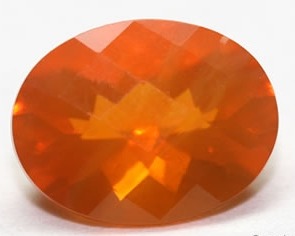 ---
Although the word 'coral' brings thoughts of sandy beaches and bright blue seas, the gemstone version is classic for fall. The stones are actually the hard skeleton of red coral branches glossed to a shine. They typically are found in warm reddish colors ranging from pale pink to dark red. These gems were highly popular in Victorian ages and ancient Egypt, but are still very chic today. They are quite versatile, so can be used in all of today's hottest trends. Take this chunky bracelet with wooden beads, for example.
---
A super hot color this fall is purple. All shades are in, especially deep plums to compliment the falling leaves. Try pairing it with amethysts, rubies and even pink sapphire, like in this Mark Patterson pendant.
---
Or kick it up a notch with another great fall trend, green! This green tourmaline and diamond ring will bring out all of your Autumn hues.
---