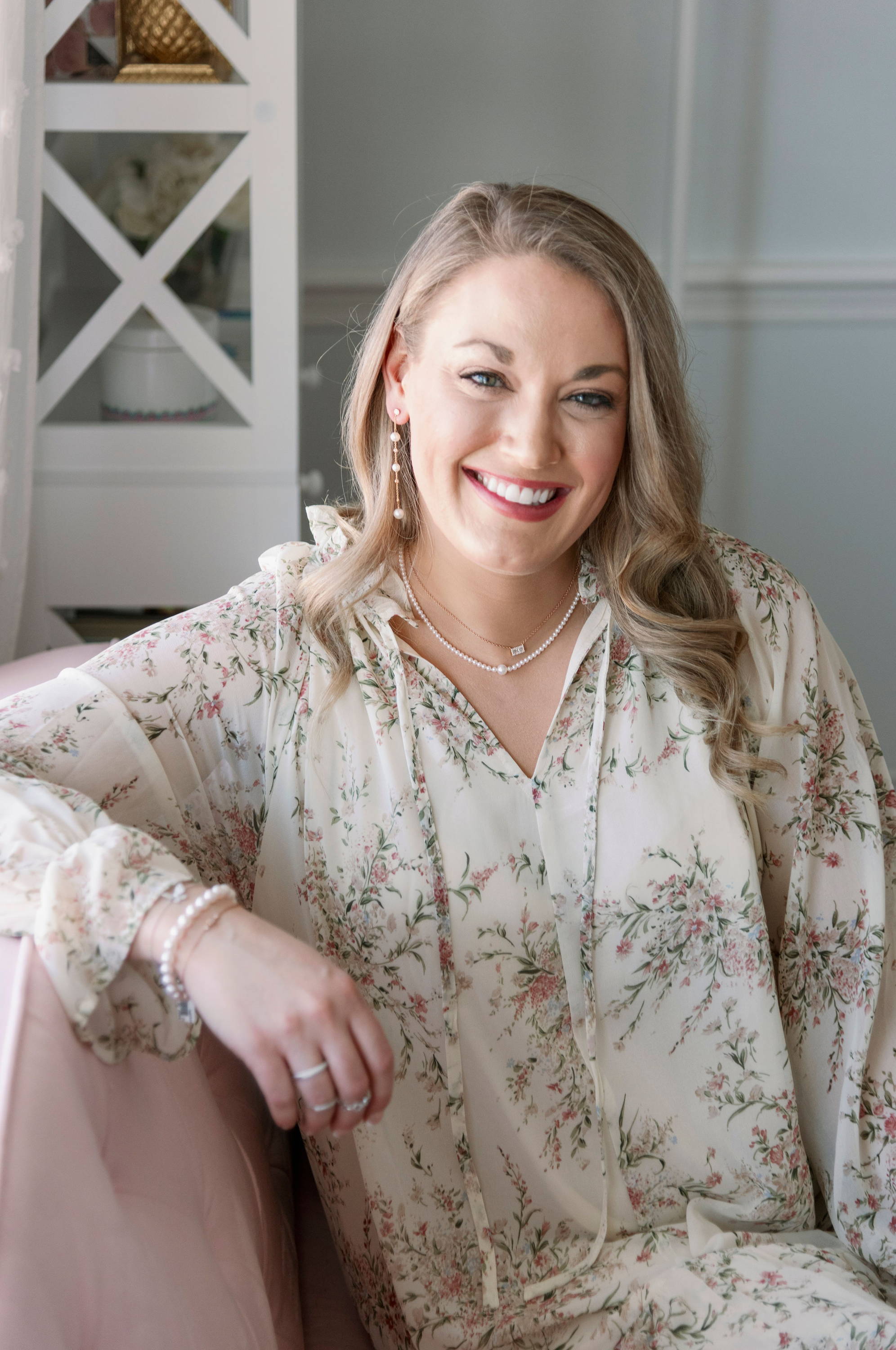 How do you like to dress? What type of jewelry do you like? Maybe you can name your style preferences, but many aren't sure how to choose jewelry to complete a look.

Enter Style Me Henne, a series on jewelry looks for your unique style, whether you prefer Boho, classic, modern, eclectic, vintage, or another vibe that is completely your own.

Our team has carefully curated these jewelry collections worn by Henne customers, Pittsburgh influencers, and media personalities. From general mood to the type of jewelry and price points, you're sure to fall in love as you follow along. Purchase your favorite piece or if you love the look, snag the entire collection!

The goal of Style Me Henne is to help you celebrate who you are with jewelry that makes you feel confident and beautiful! Check out the complete blog series, and be sure to follow Henne Jewelers on social media for more amazing content.
Introducing Kalyn Letizia  
Kalyn Letizia is a Pennsylvania fashion and lifestyle influencer with over 22K followers. She's also a certified personal trainer who loves a good workout and healthy recipes. Check her out @styleherstrong on Instagram as she shares content on fashion, motherhood, home renovations and decorating, and more. Here she is taking a beat before the birth of her son, featuring several elegant and classic looks with some of her family's birthstones. Whether you're a mother-to-be, a mama bear, or a stylish female who loves jewelry that is sparkly and timeless, keep reading and admiring!
---
PRETTY IN PINK AND PEARLS
Long drop earrings are on trend for 2021, and we think they'll be for awhile! Kalyn is effortlessly stunning with these pearl and diamond station drop earrings. The 18K rose gold is perfect for her complexion and complements the pink flowers on her flowy dress.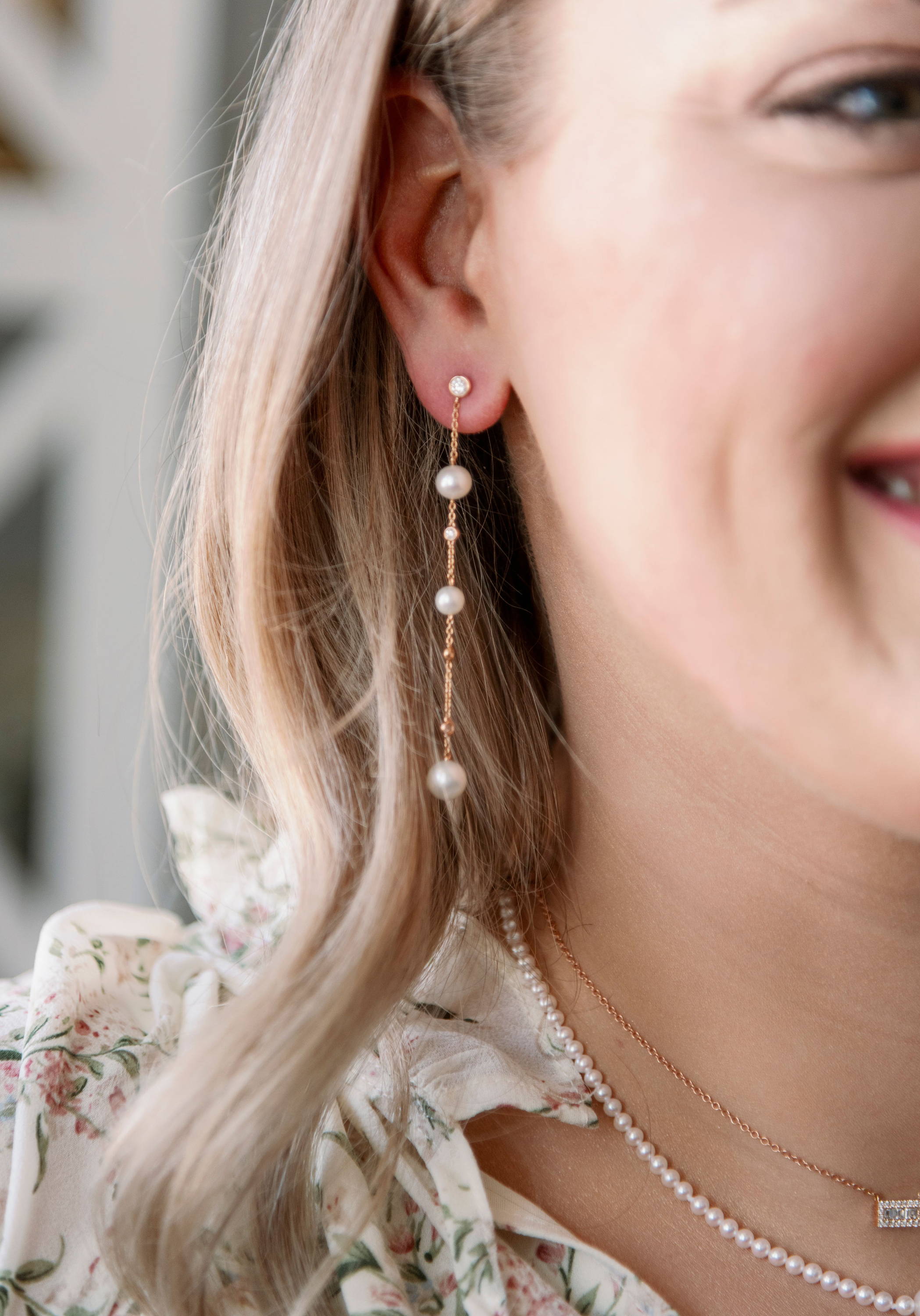 Pave chain rings have become a jewelry staple for many, offering the sparkle of a cocktail ring with exceptional wearability. And of course pave ring stacks are always a good choice (and can carry special significance such as an anniversary band).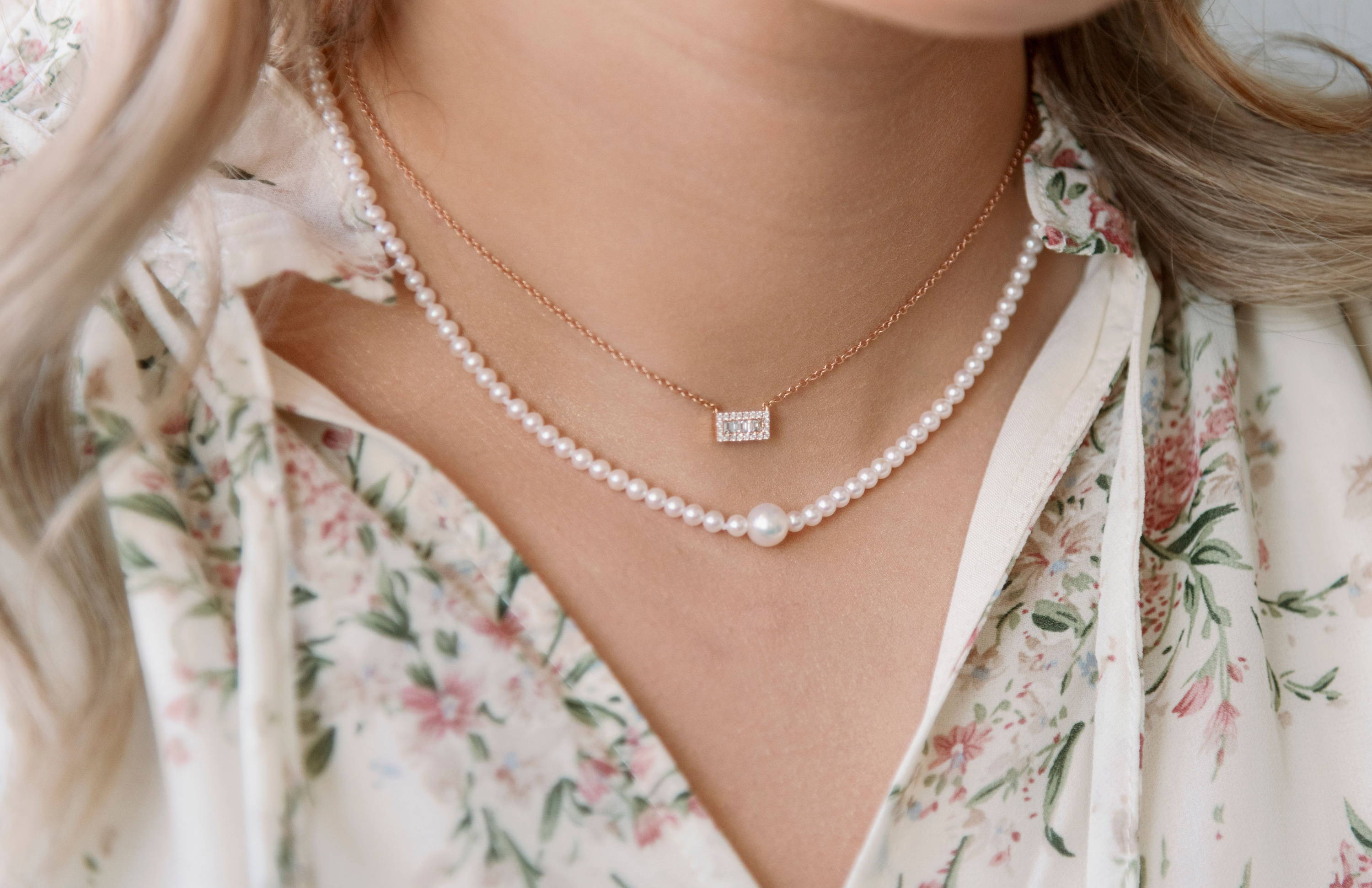 Elegance meets sparkle in this sweet rectangular pendant featuring baguettes and pave diamonds. The adjustable chain makes it perfect for layering. Henne's popular Exclusively by Nina collection offers this lovely 'Pearl of Pearls' necklace, featuring fine Akoya pearls.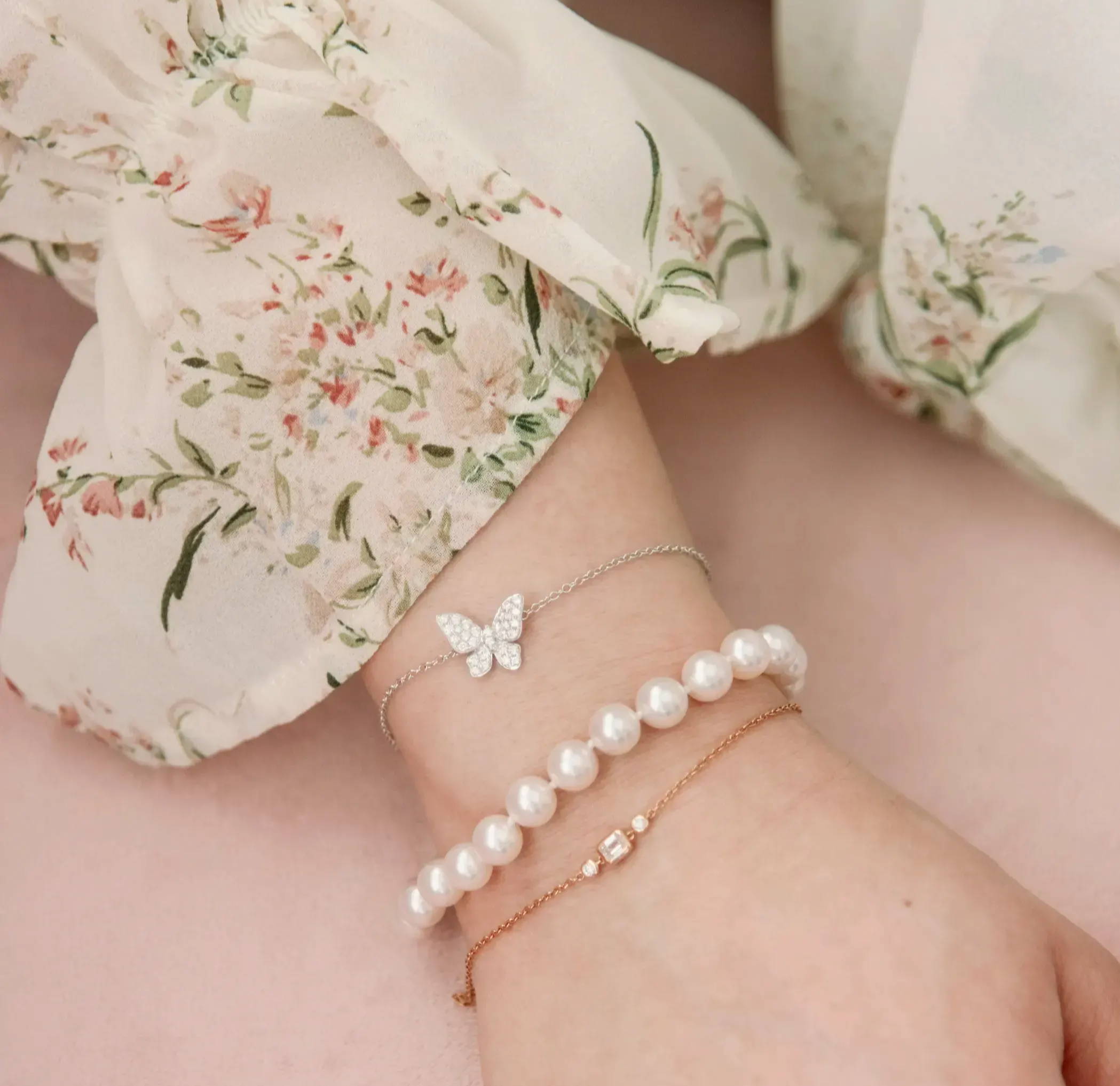 Mixing metals, gemstones and textures is simple once you have a look in mind. Kalyn's look is decidedly feminine and natural, reflected on her wrist with a pave butterfly bracelet, pearl bracelet, and a petite bracelet with bezel-set emerald-cut and round diamonds.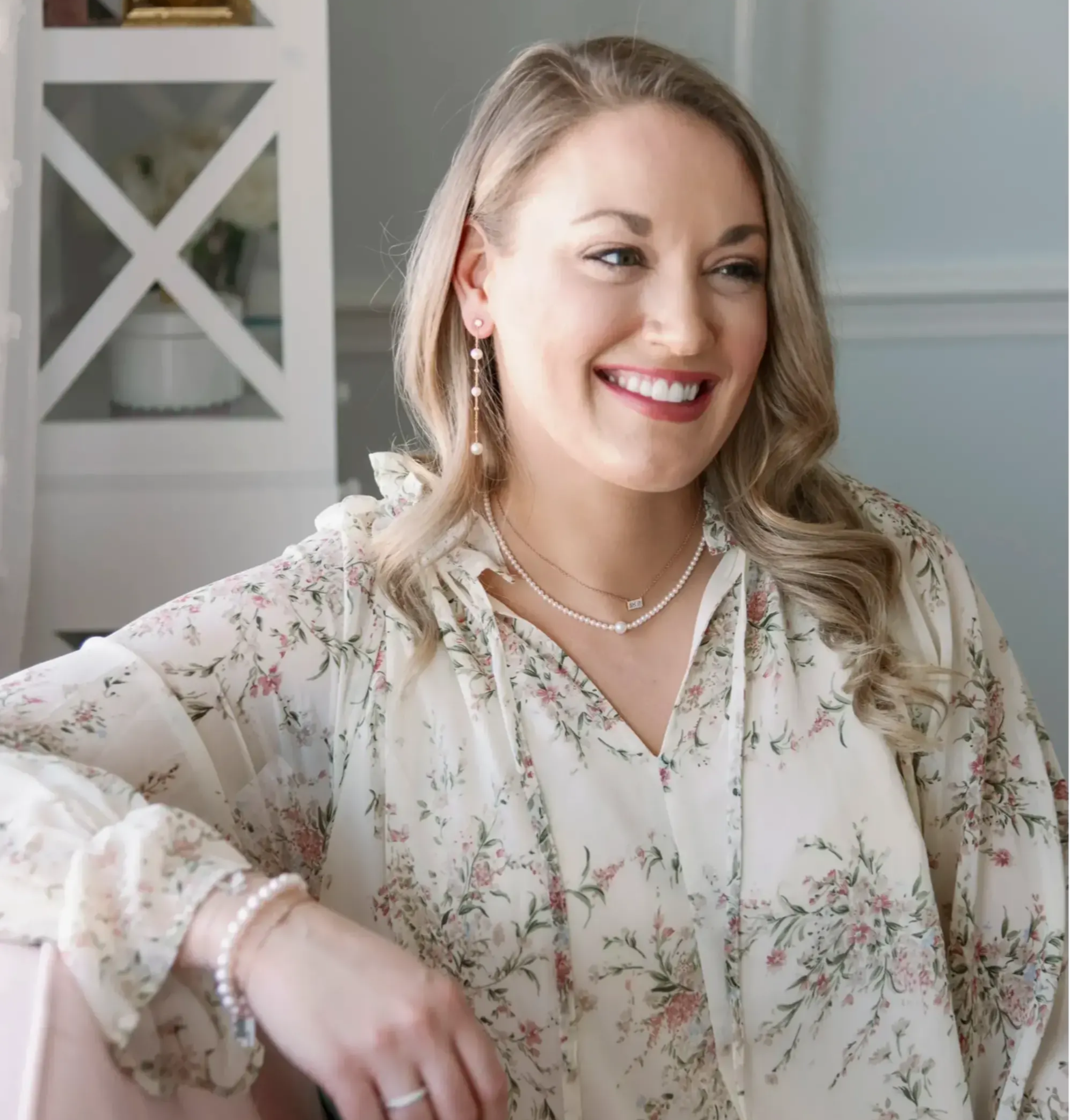 SUMMERy HUES With Boho Beads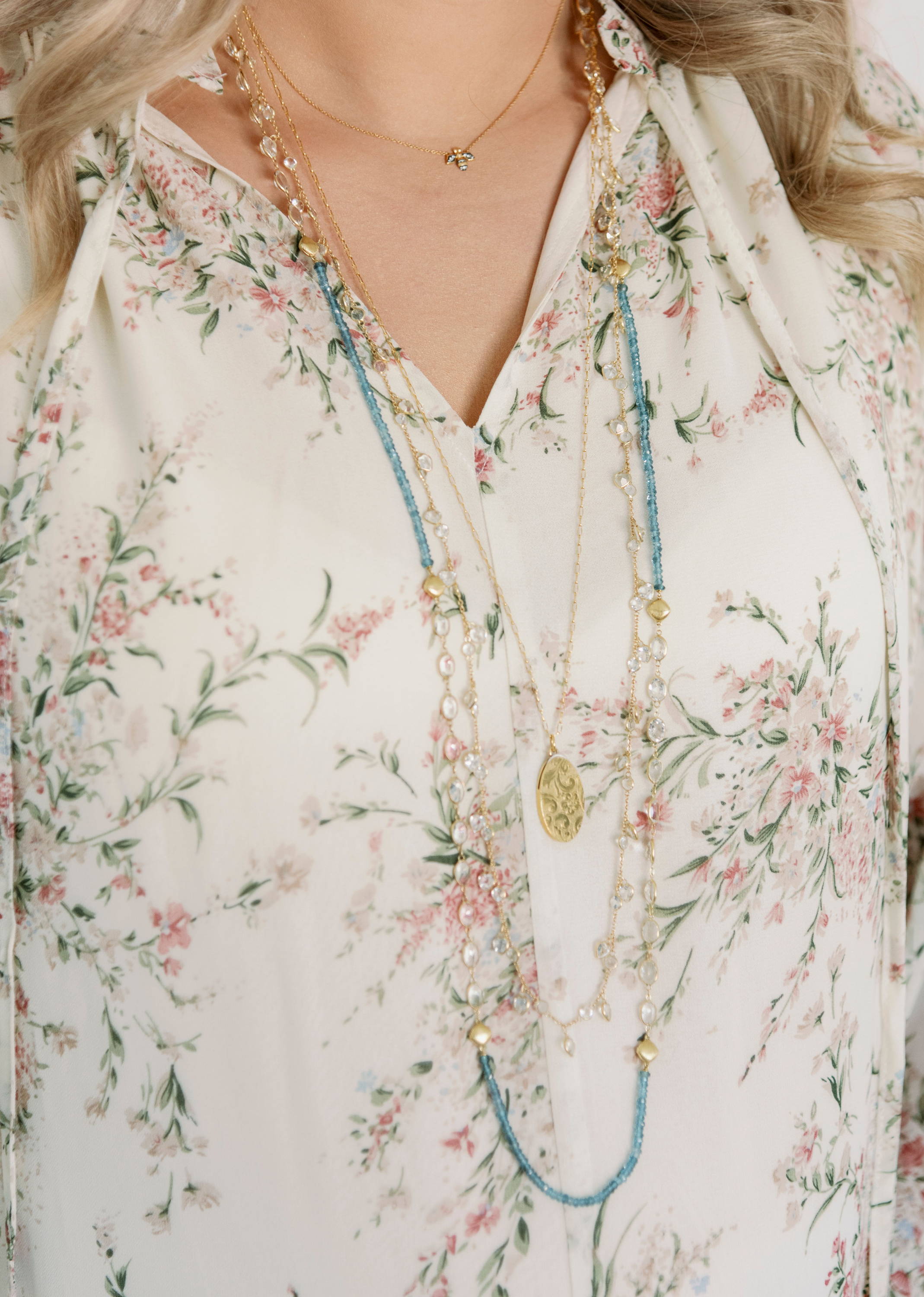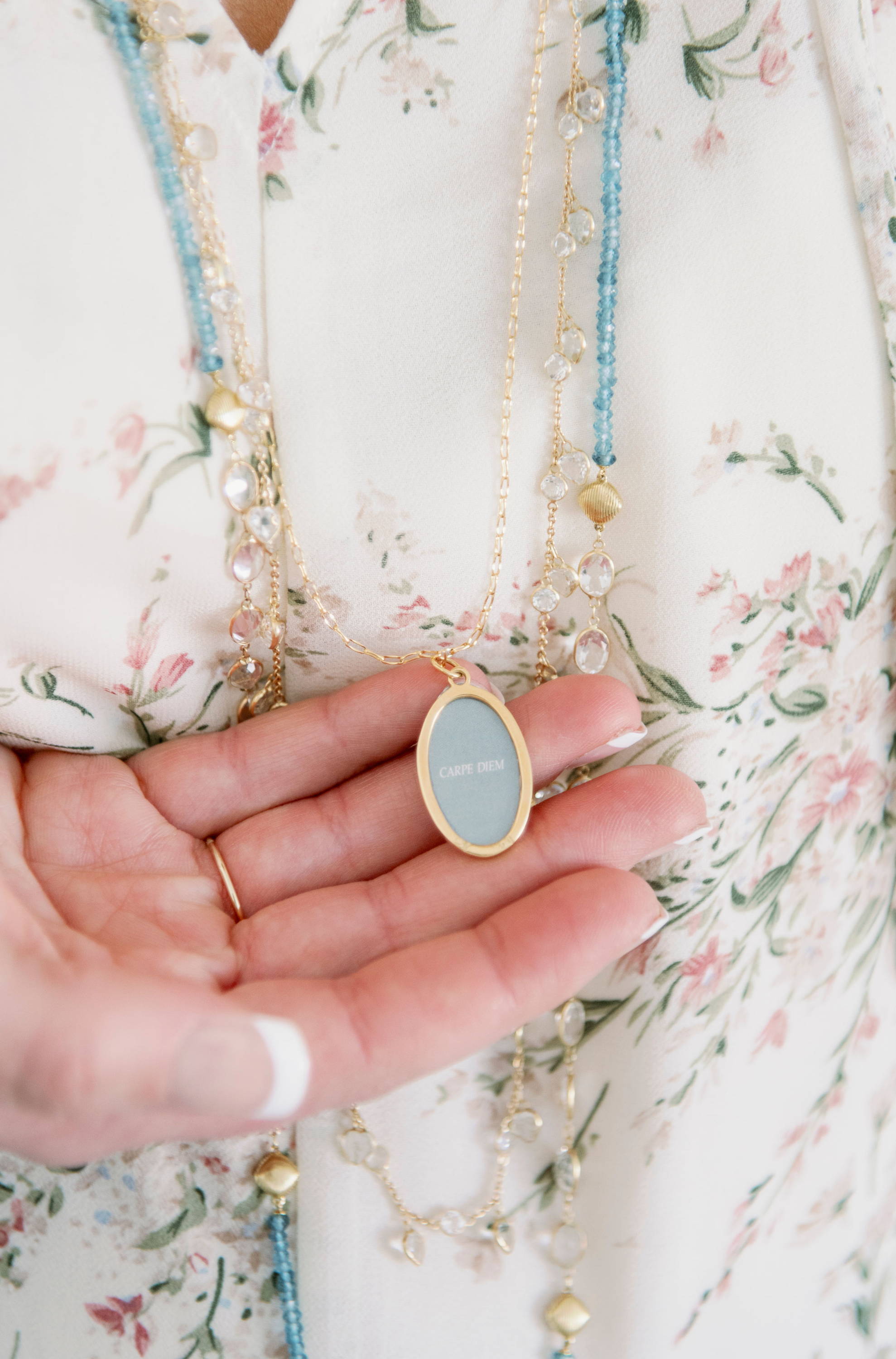 Lastly, a petite necklace adds balance to the long necklaces. This miniature bee charm by Monica Rich Kosann features black enamel and pave diamonds on an adjustable 16-18 inch chain.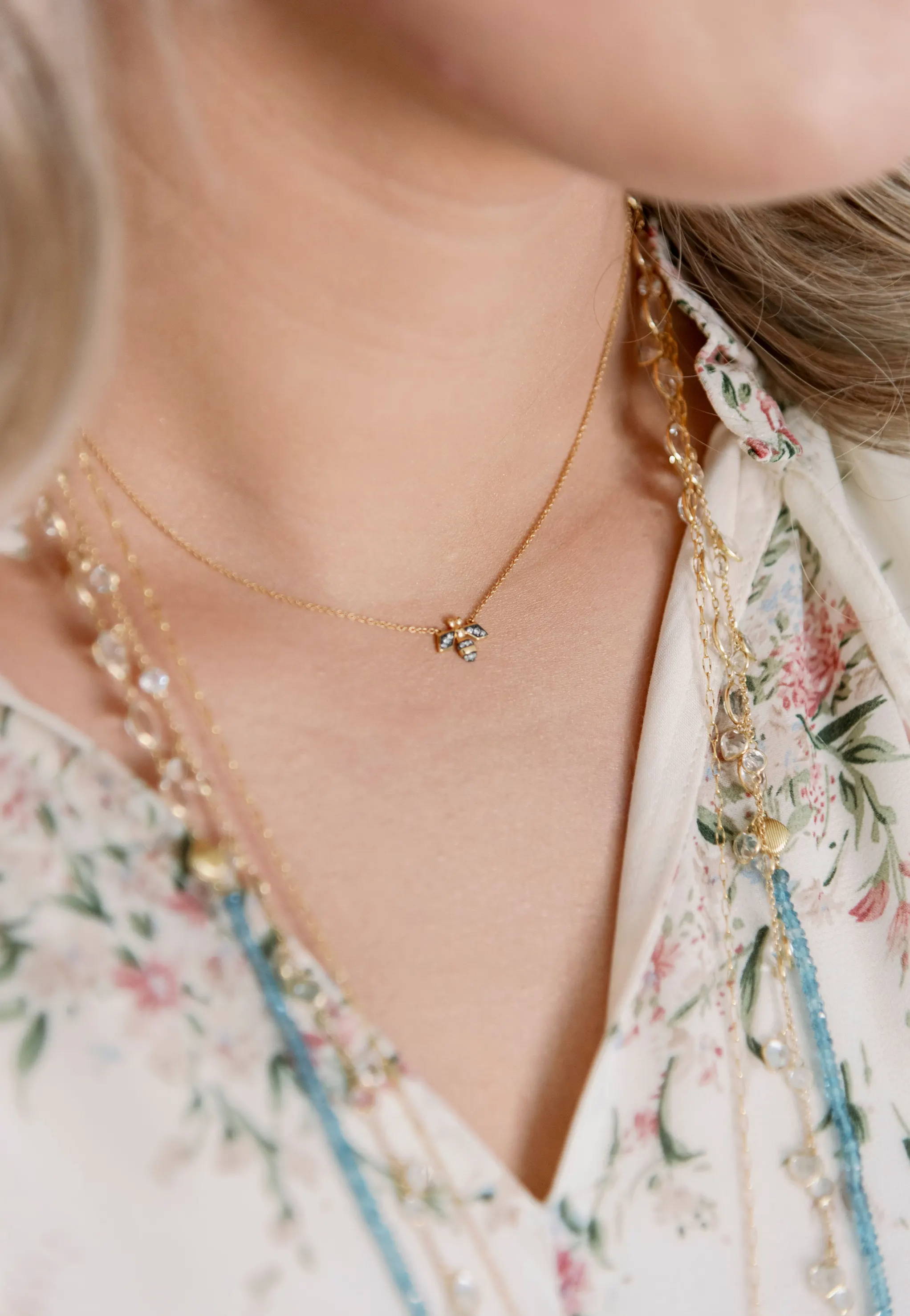 Stunning Sapphire & Gorgeous Gold
When you're going for a classic and elegant look, you can't go wrong with sapphire and diamond jewelry, set in yellow or white gold (or platinum). Not only is it one of the 'big 3' of precious gemstones, but it also can hold special meaning as a birthstone (September) for your or your kids or anniversary present (5th or 45th anniversary). Kalyn wears some of our most popular sapphire and diamond jewelry with a beautiful, flowy blue dress.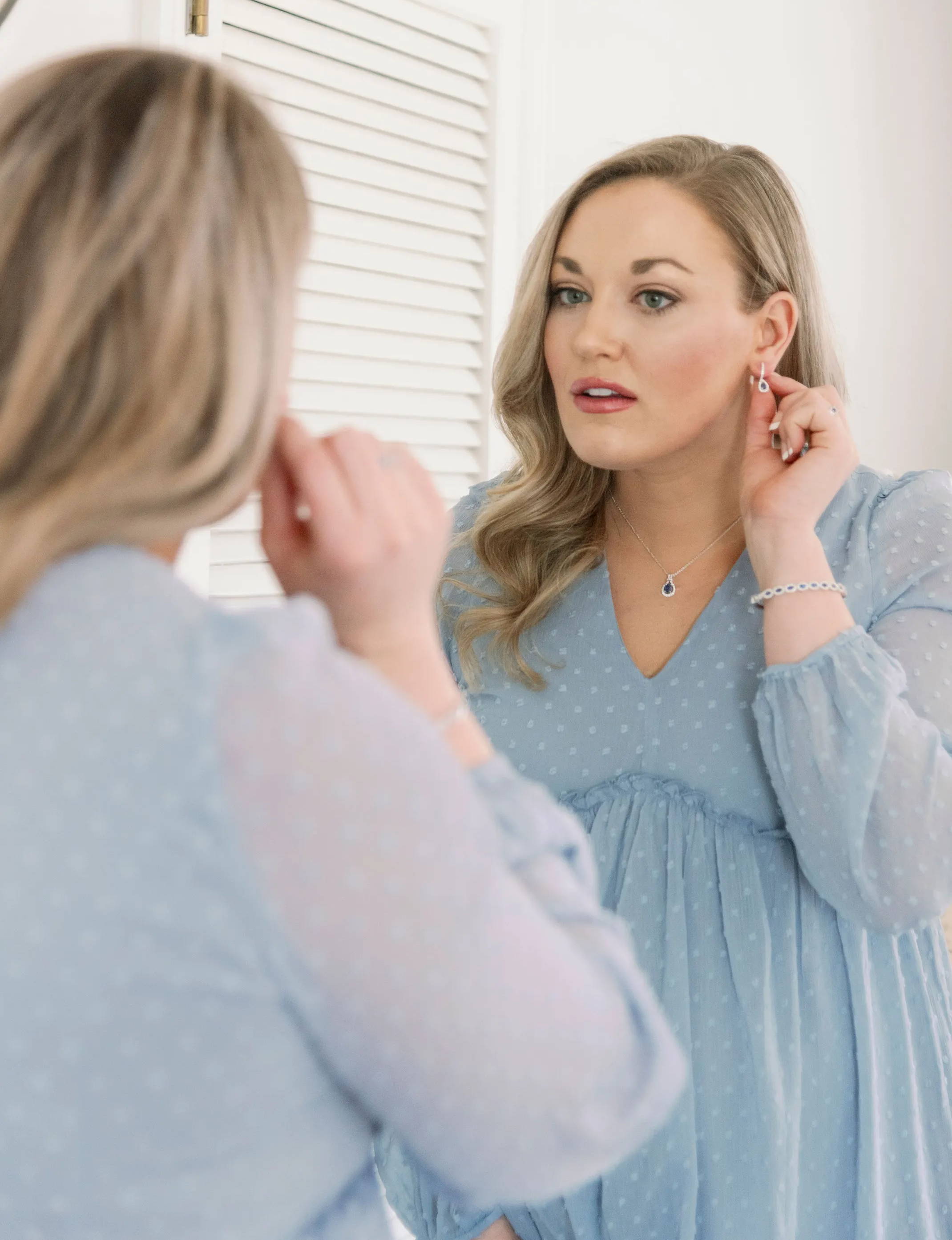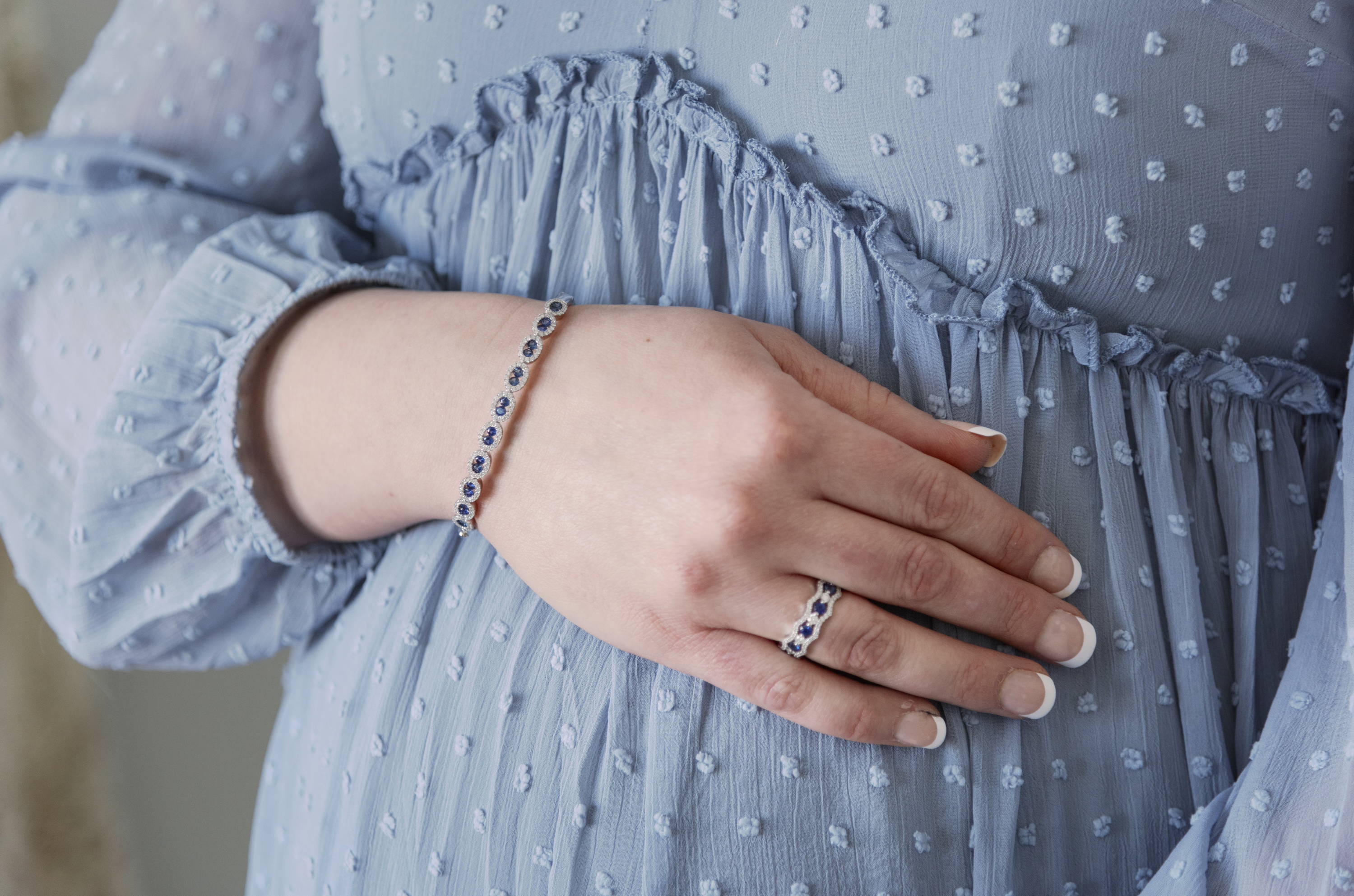 delight on white: Two-tone jewelry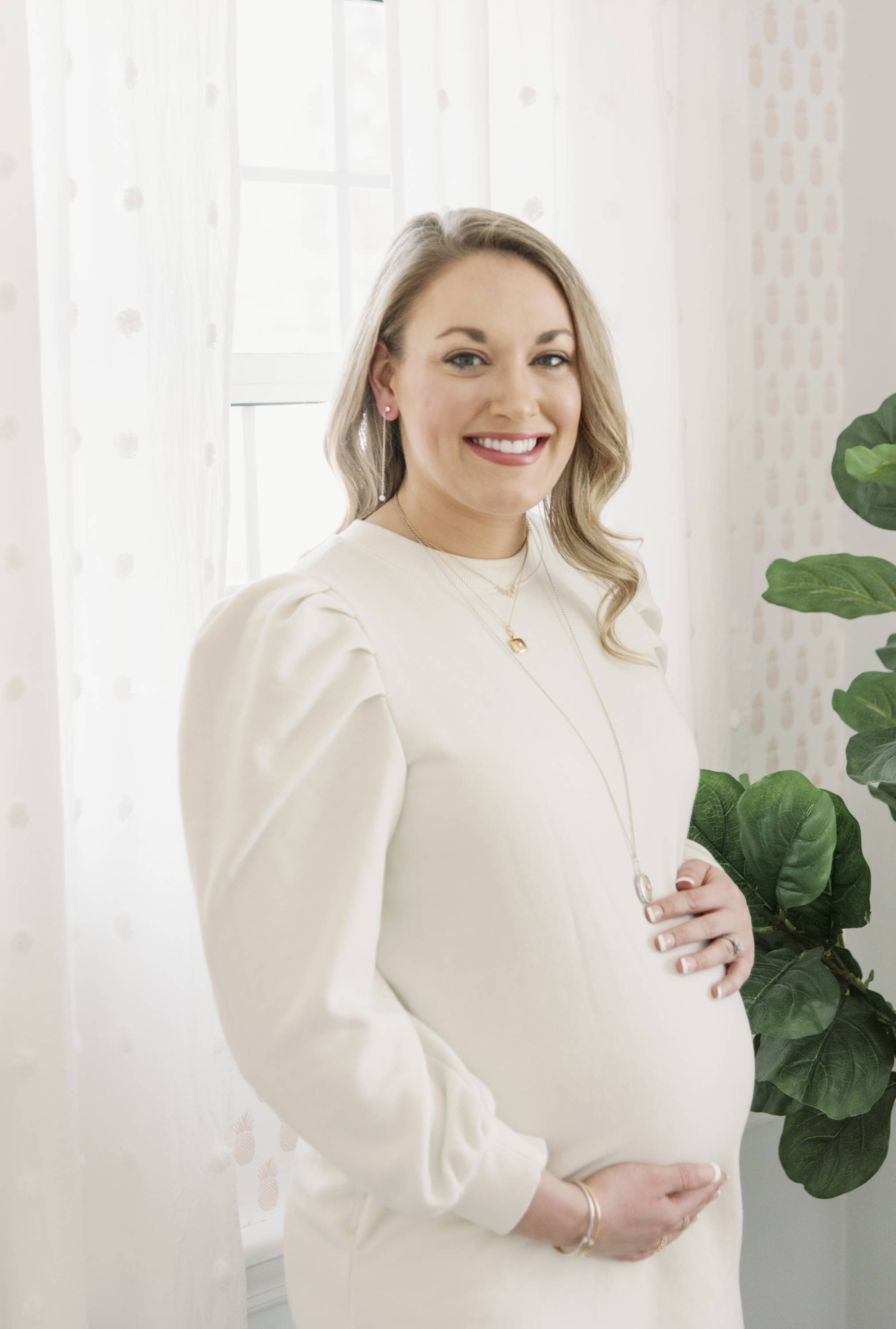 Kalyn wore this regal white dress, which served as the perfect backdrop for a two-tone look, accented with pave and single diamonds.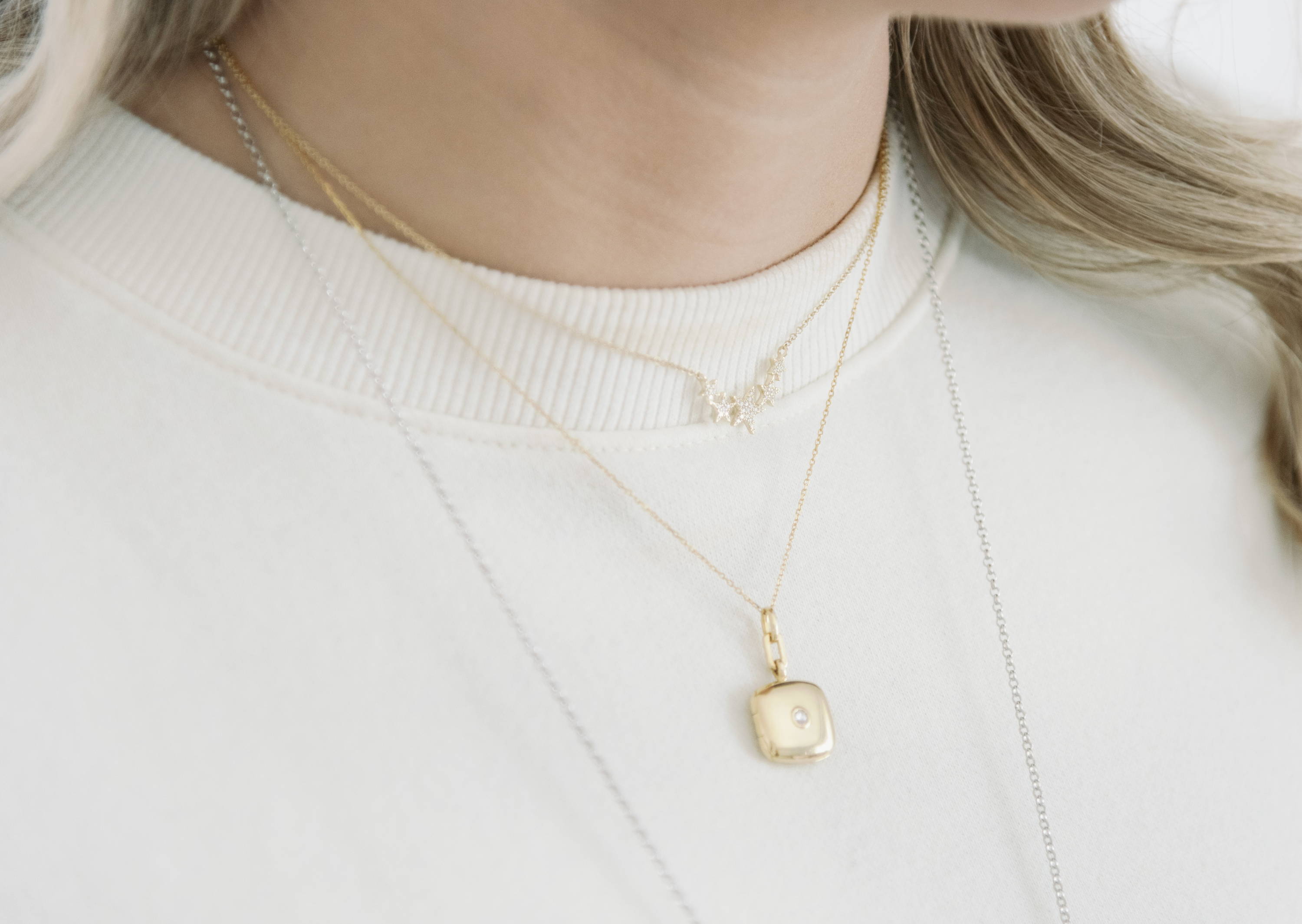 She wore three necklaces of varying lengths, beginning with a pave star necklace by Shy Creation in yellow gold (this one sold, but we can order another for any customer). Next is a Monica Rich Kosann 'Viv' locket in yellow gold with a single bezel-set diamond.
The third is another Monica Rich Kosann locket, this one two-tone featuring a yellow gold star. It recently sold but can be ordered for anyone who is interested.
On her ring finger two yellow gold bands embrace a third, adorned with diamonds. On Kalyn's middle finger rests a rolling ring, with three pave bands in yellow, white and rose gold.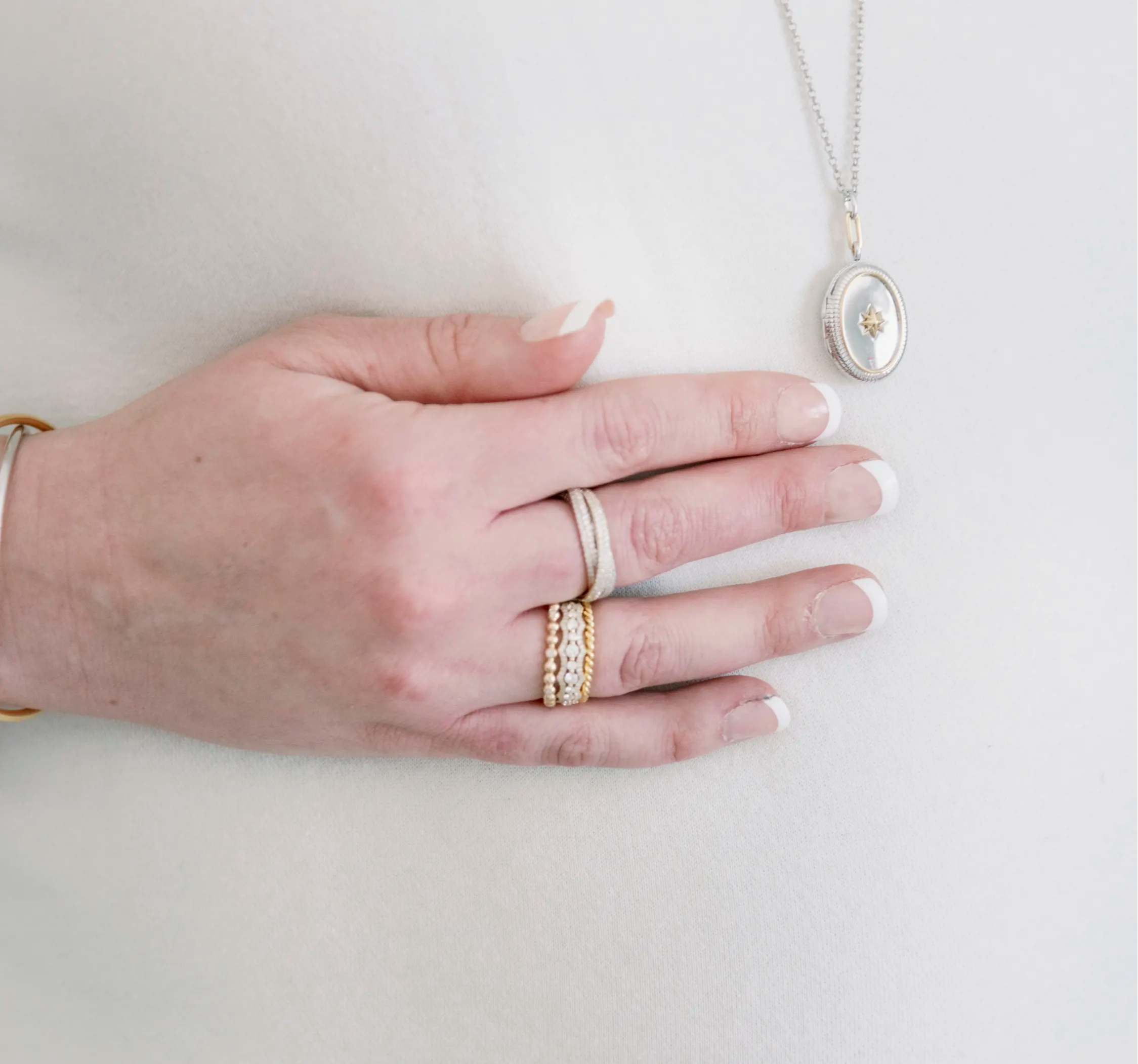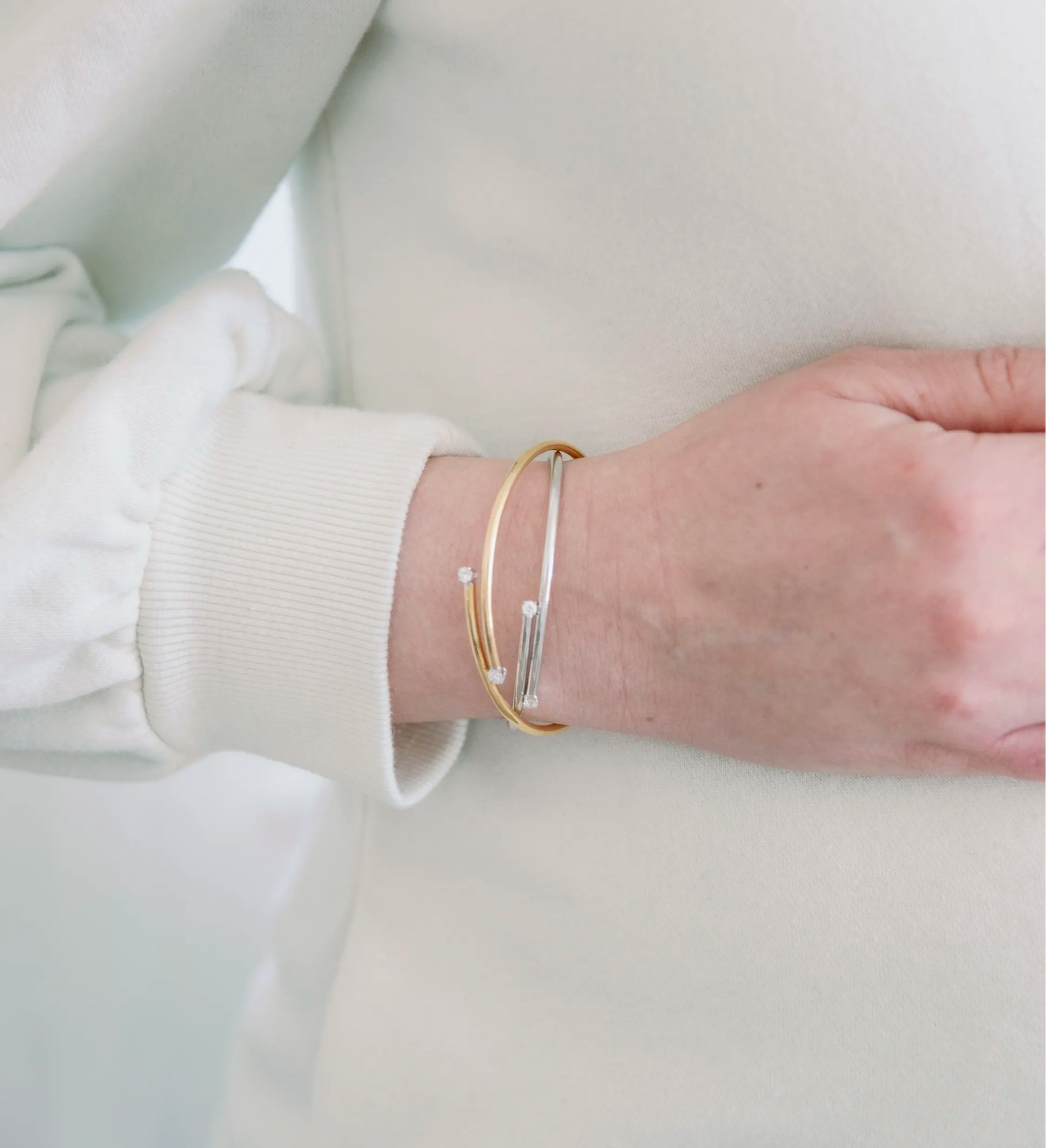 Lastly, Kalyn wears these beautiful and trendy long dangle earrings, accented with round bezel-set diamonds at the top and bottom.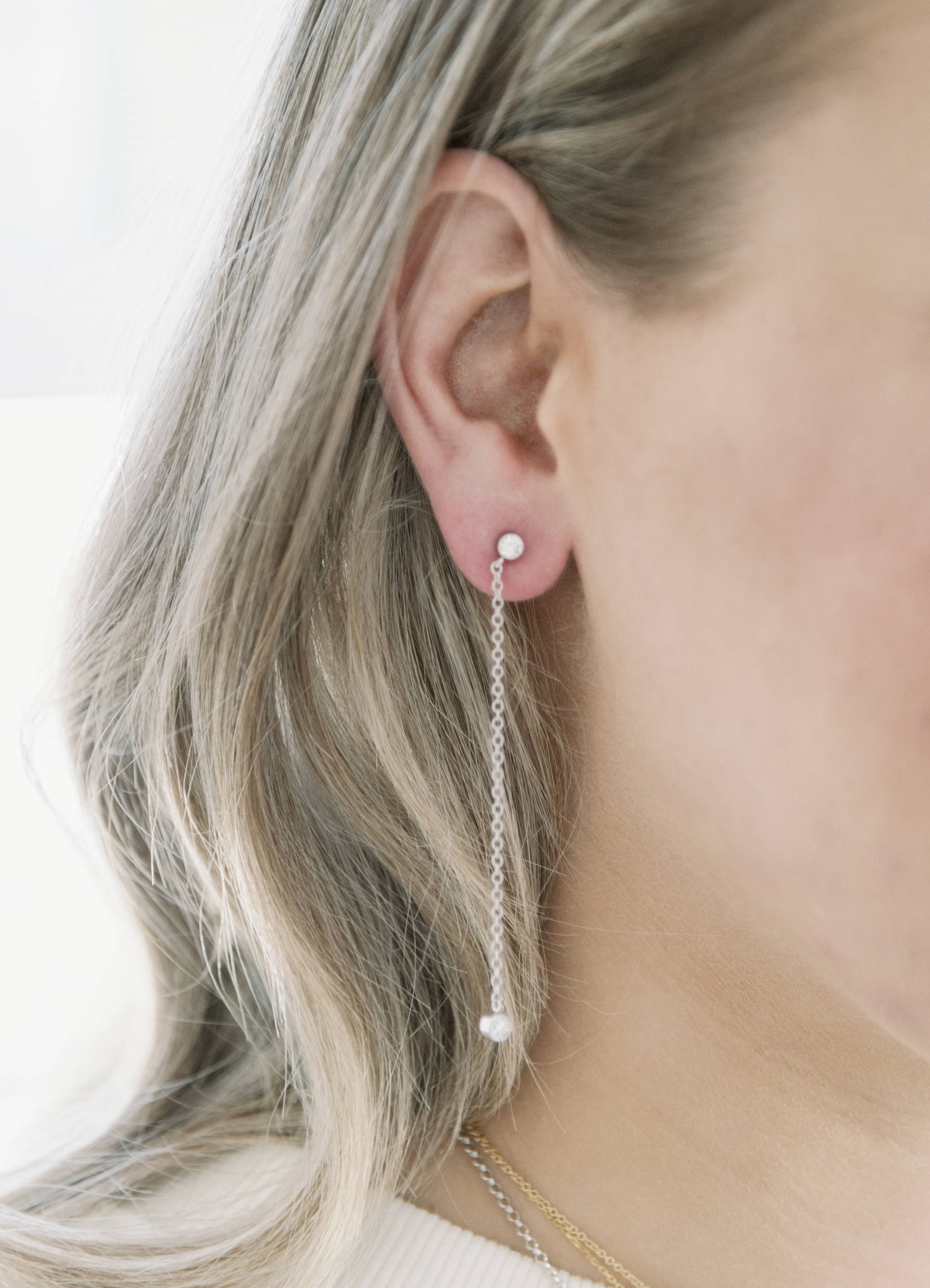 Stay tuned for our next Style Me Henne blog,
featuring stunning jewelry and how to wear it!
---
---