How do you like to dress? What type of jewelry do you like? Maybe you can name your style preferences, but many aren't sure how to choose jewelry to complete a look.
Enter Style Me Henne, a series on jewelry looks for your unique style, whether you prefer Boho, classic, modern, eclectic, vintage, or another vibe that is completely your own.
Our team has carefully curated these jewelry collections worn by Henne customers, Pittsburgh influencers, and media personalities. From general mood to the type of jewelry and price points, you're sure to fall in love as you follow along. Purchase your favorite piece or if you love the look, snag the entire collection!
The goal of Style Me Henne is to help you celebrate who you are with jewelry that makes you feel confident and beautiful! Check out the complete blog series, and be sure to follow Henne Jewelers on social media for more amazing content.
Chelsea Chen is a Pittsburgh fashion influencer with nearly 24K followers. Check her out @chelchen on Instagram as she shares content on beautiful things, places, and experiences. She's got all the Boho vibes, and the jewelry collections add a touch of whimsy.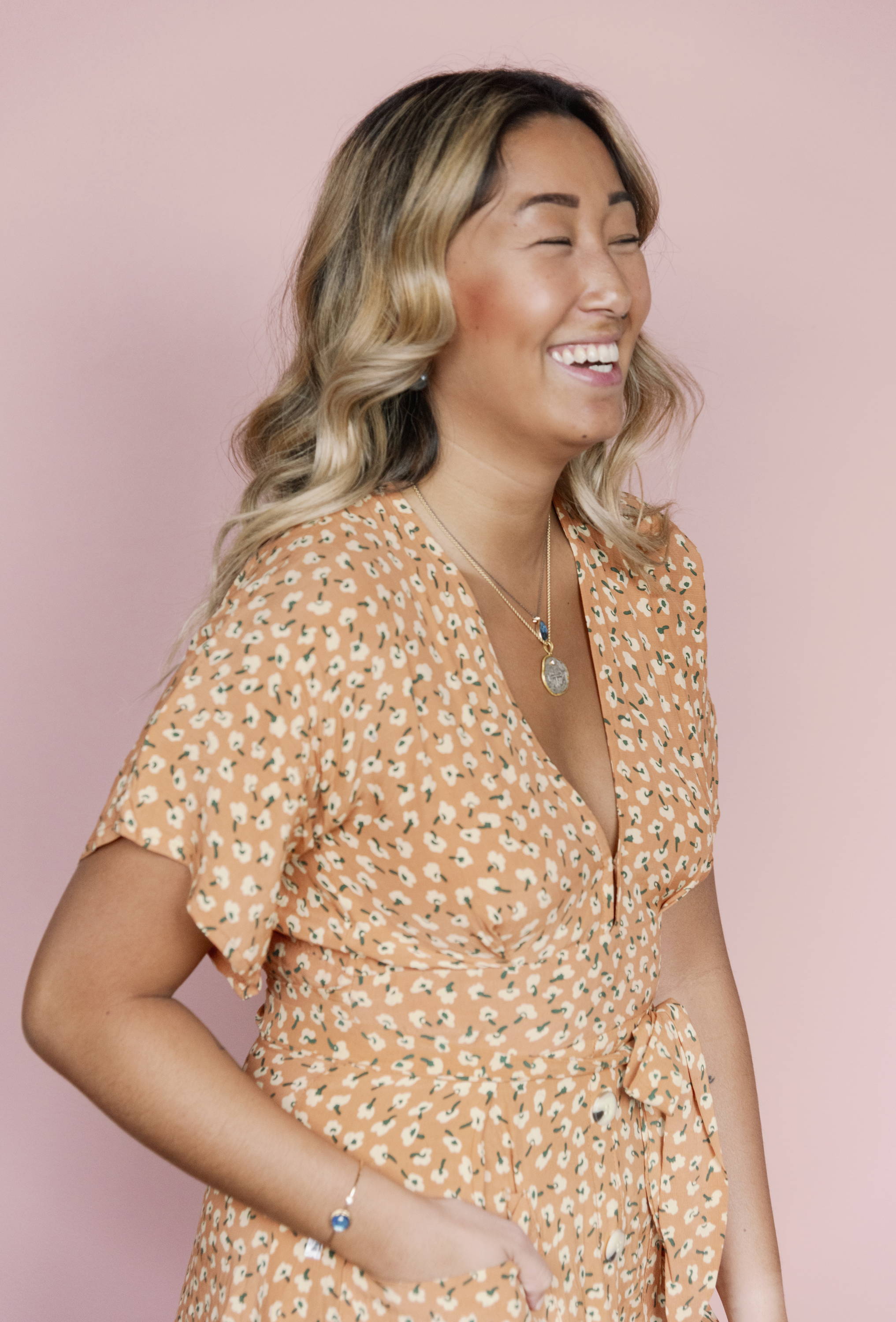 ---
Breathtaking blues & Boho Blooms
Jamie Joseph crafts amazing jewelry designs with gemstones that are as unique as they are wearable in any season. This 14K yellow gold wire bangle bracelet features a blue rainbow moonstone and a single accent diamond -- sure to make you think of crystal blue waters all summer long.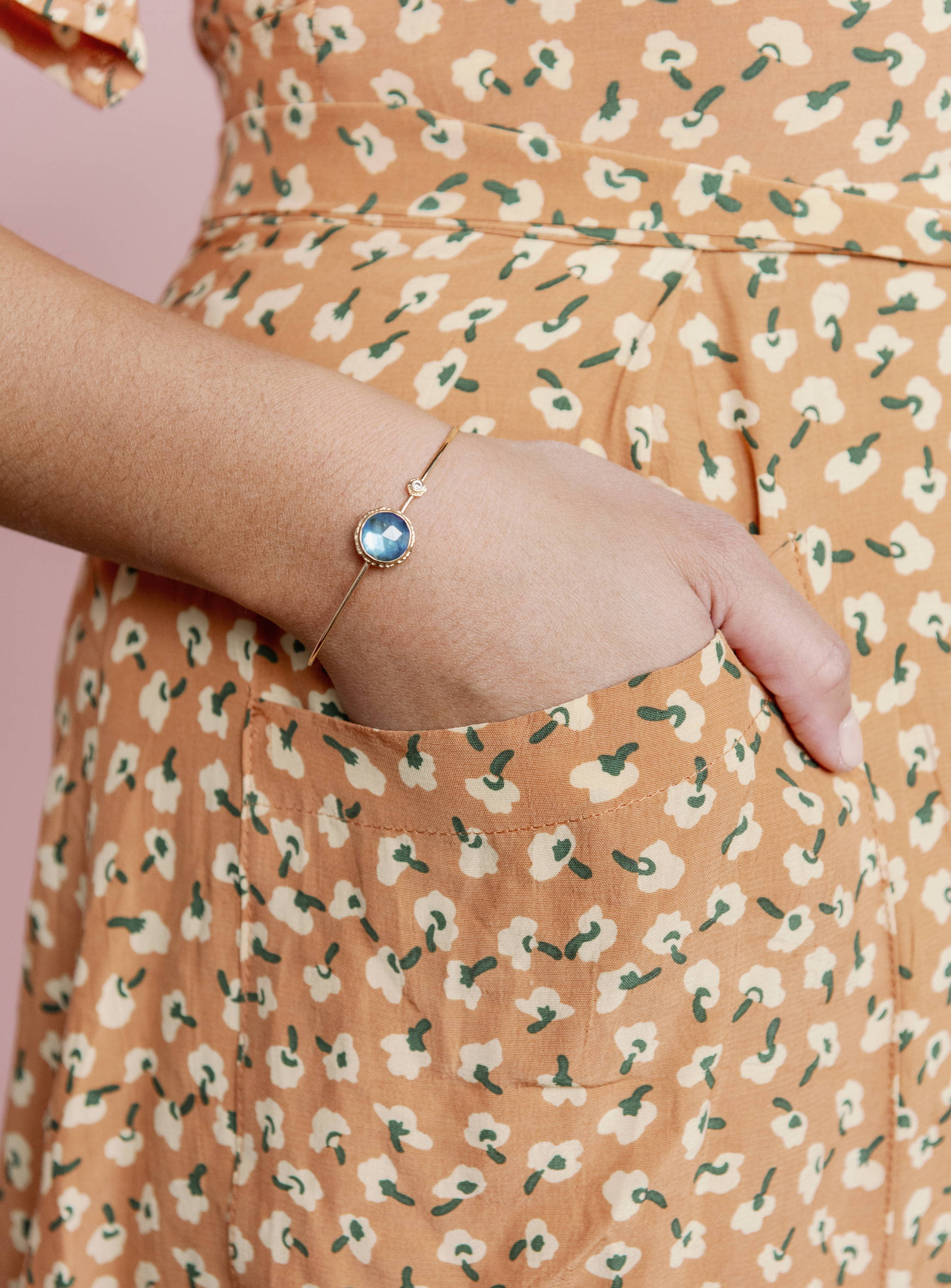 Steven Battelle is one of Henne's newer designer lines, whose jewelry is inspired by travel, historical artifacts, mixed metals and gemstones. Chelsea wears two rings that compliment her skin tone perfectly. The bands are crafted in oxidized sterling silver, their texture offset by the fancy color cognac diamond nestled in an 18K yellow gold bezel setting.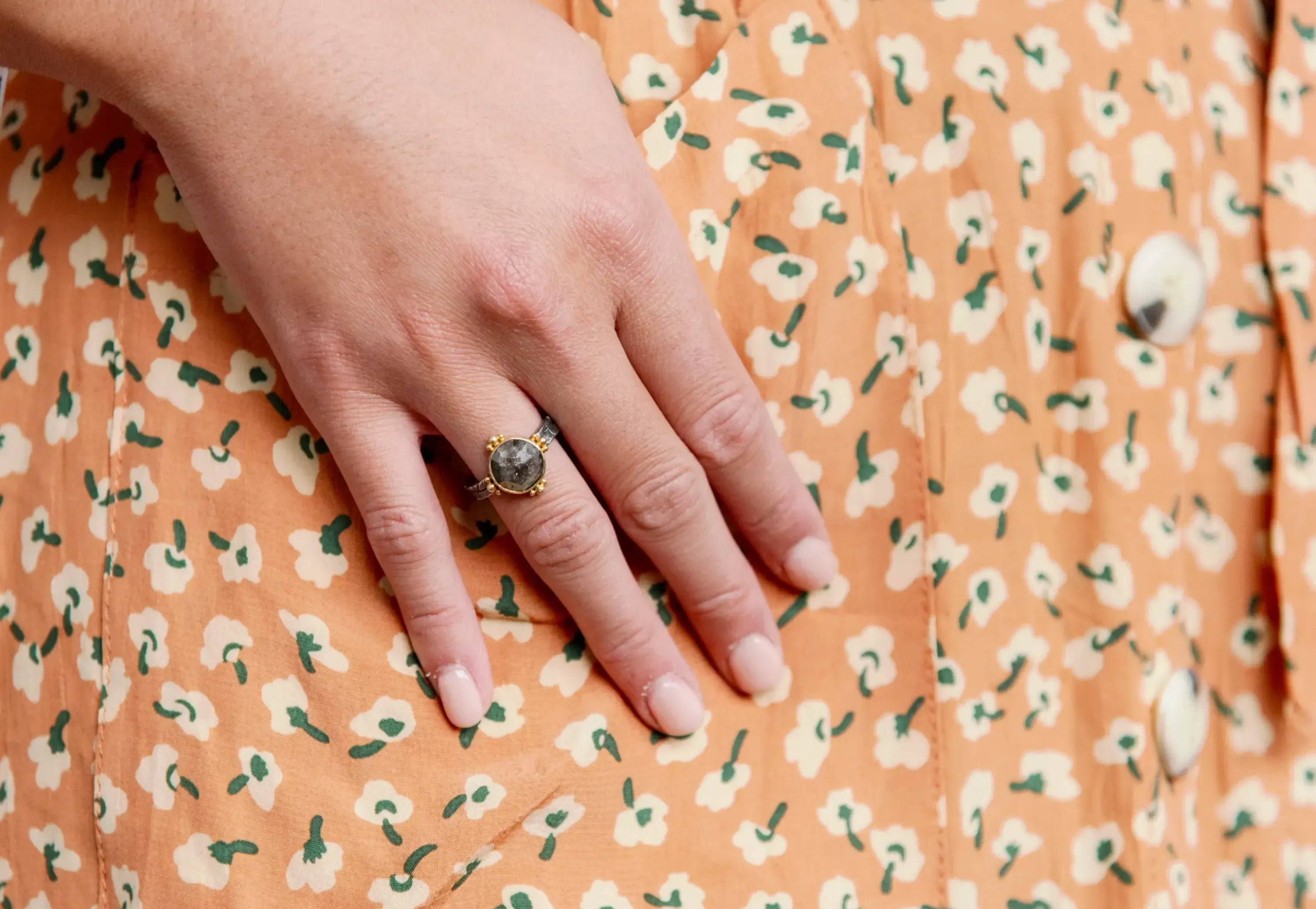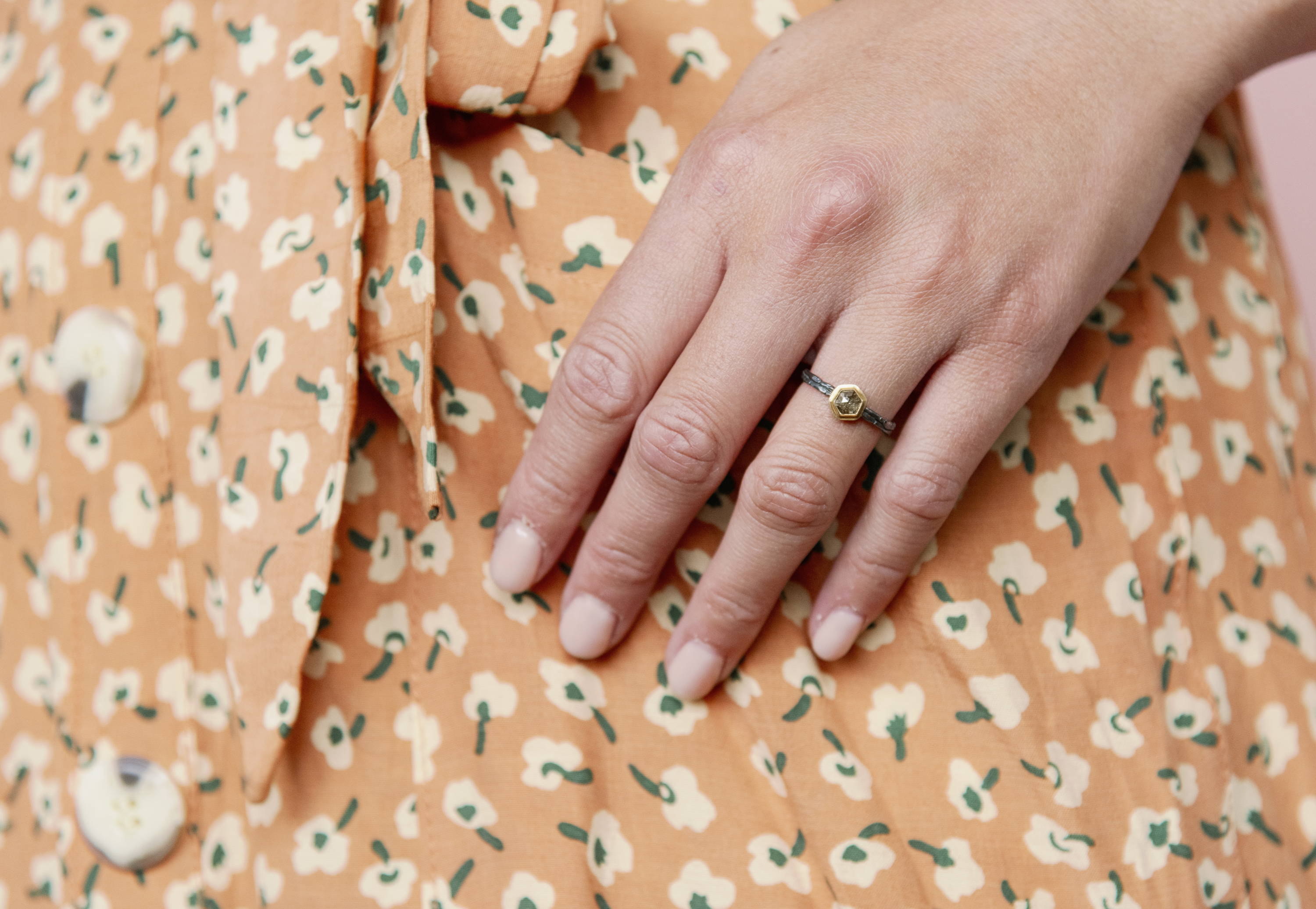 These Jamie Joseph dangle earrings feature faceted labradorite drops, set in 14K yellow gold. The facets create a shimmery effect, while the stones themselves add a lovely pop of color.
The heart of Chelsea's Boho look is a Steven Battelle pendant featuring an authentic Spanish colonial sterling silver coin from the 16-1700s and a bezel-set diamond accent. A Jamie Joseph necklace adds a contrasting layered look, from the London Blue topaz pendant to the shorter oxidized sterling silver chain.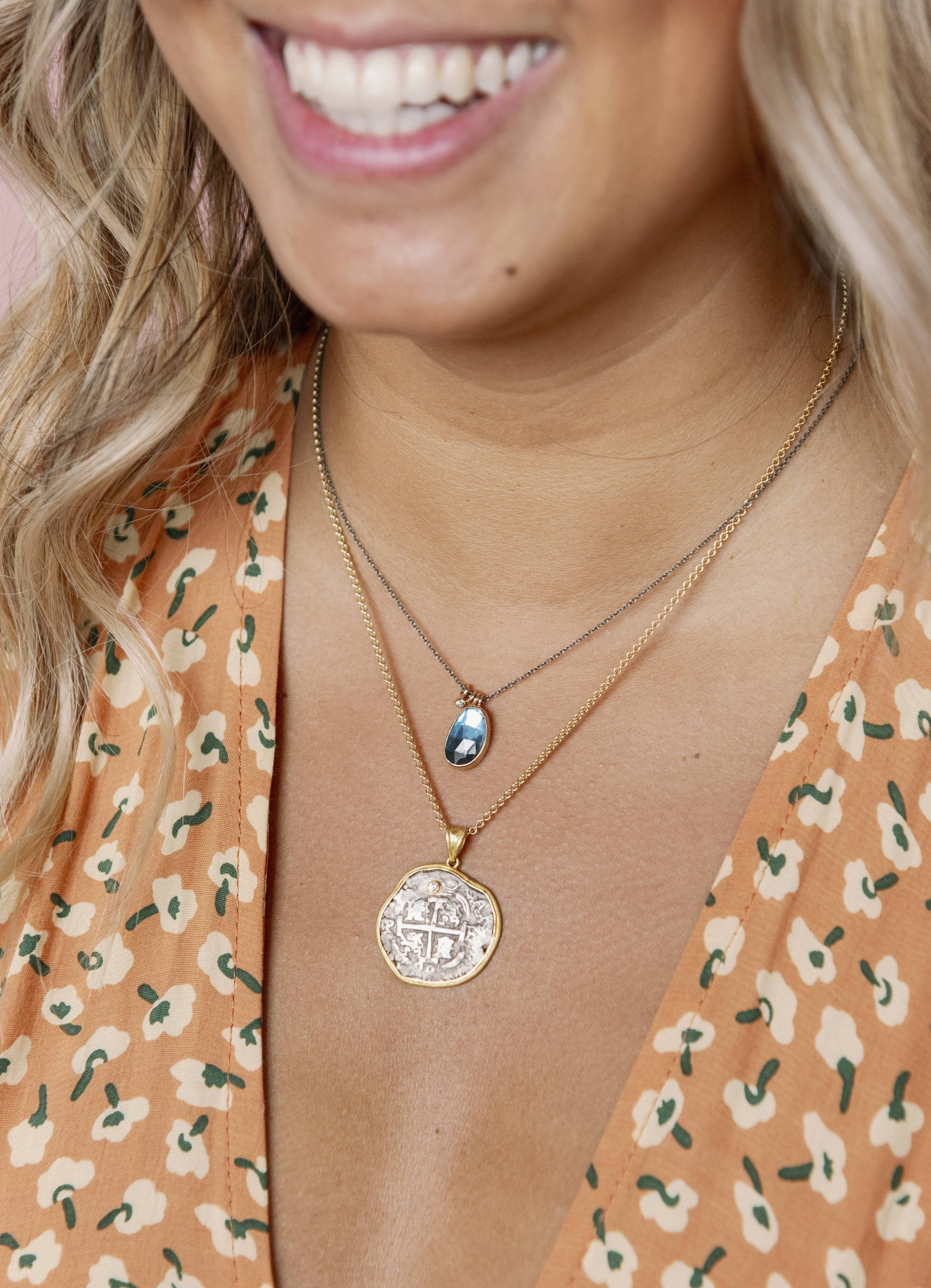 OFF THE CUFF: MIXED METALS & MOTIFS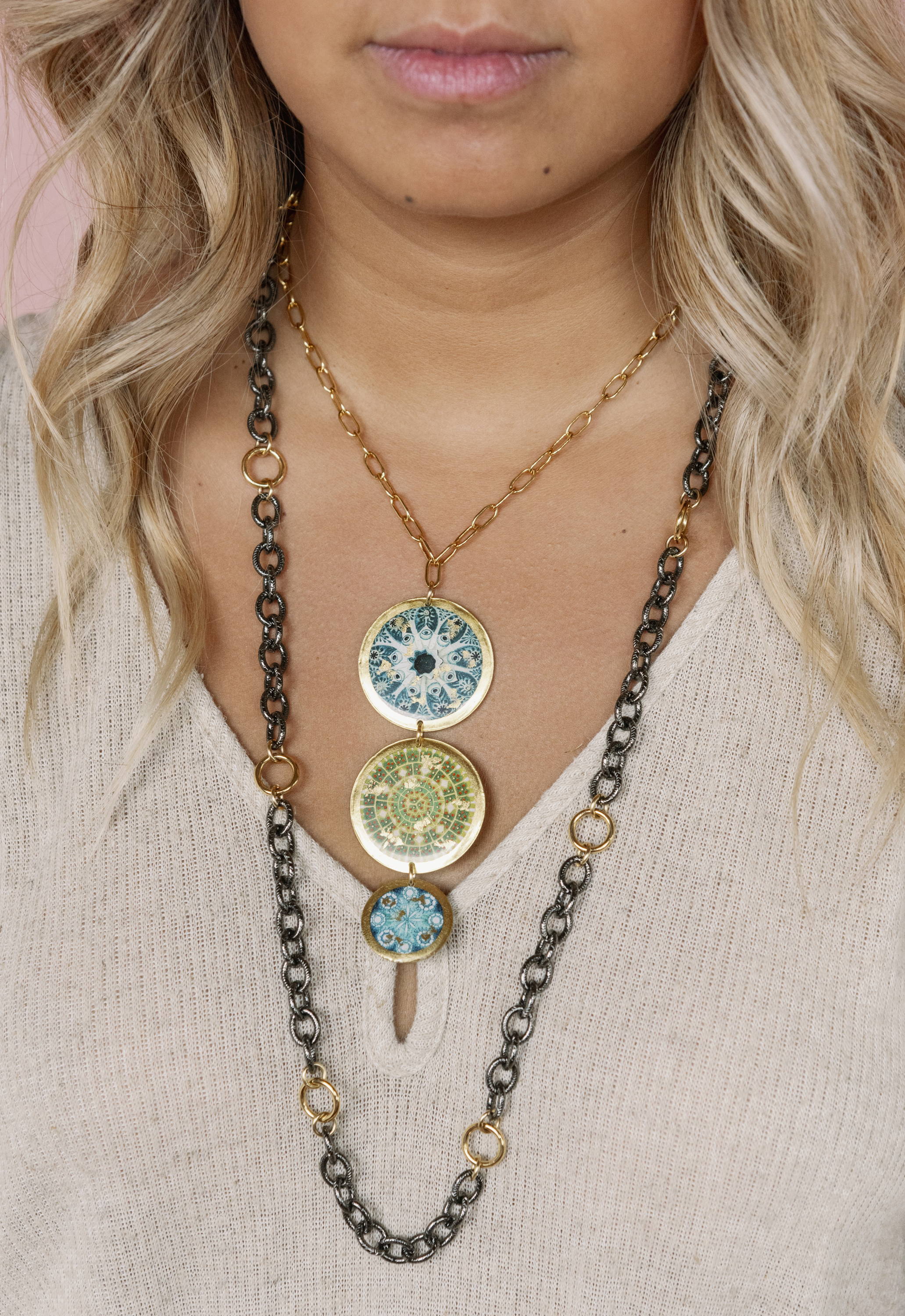 Chunkier jewelry is on trend, and this look is captivating -- ideal for the bold and beautiful chica who embraces mixed metals, textures, colors and motifs. Earthy blues and greens come to life in this long drop necklace by Evocateur, paired with a sturdy 32-inch gold and gunmetal cable chain (at $178, gives you a lot of "bang" for your buck).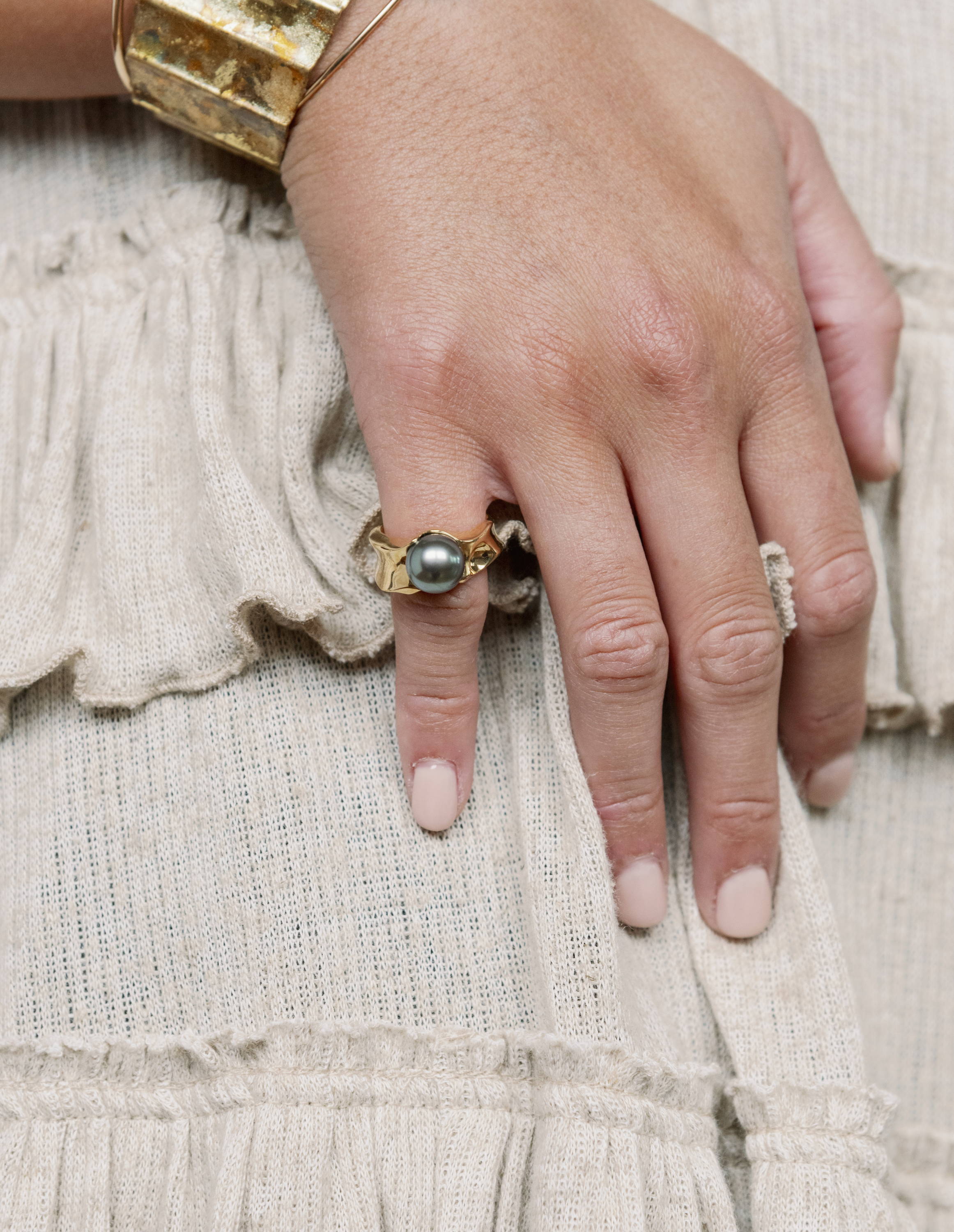 Pearls can truly be worn any way, regardless of your personal style. Chelsea wore this Henne Exclusive Tahitian pearl ring set in a wider 18K yellow gold band on her pinkie finger, infusing a Bohemian, almost gypsy flair.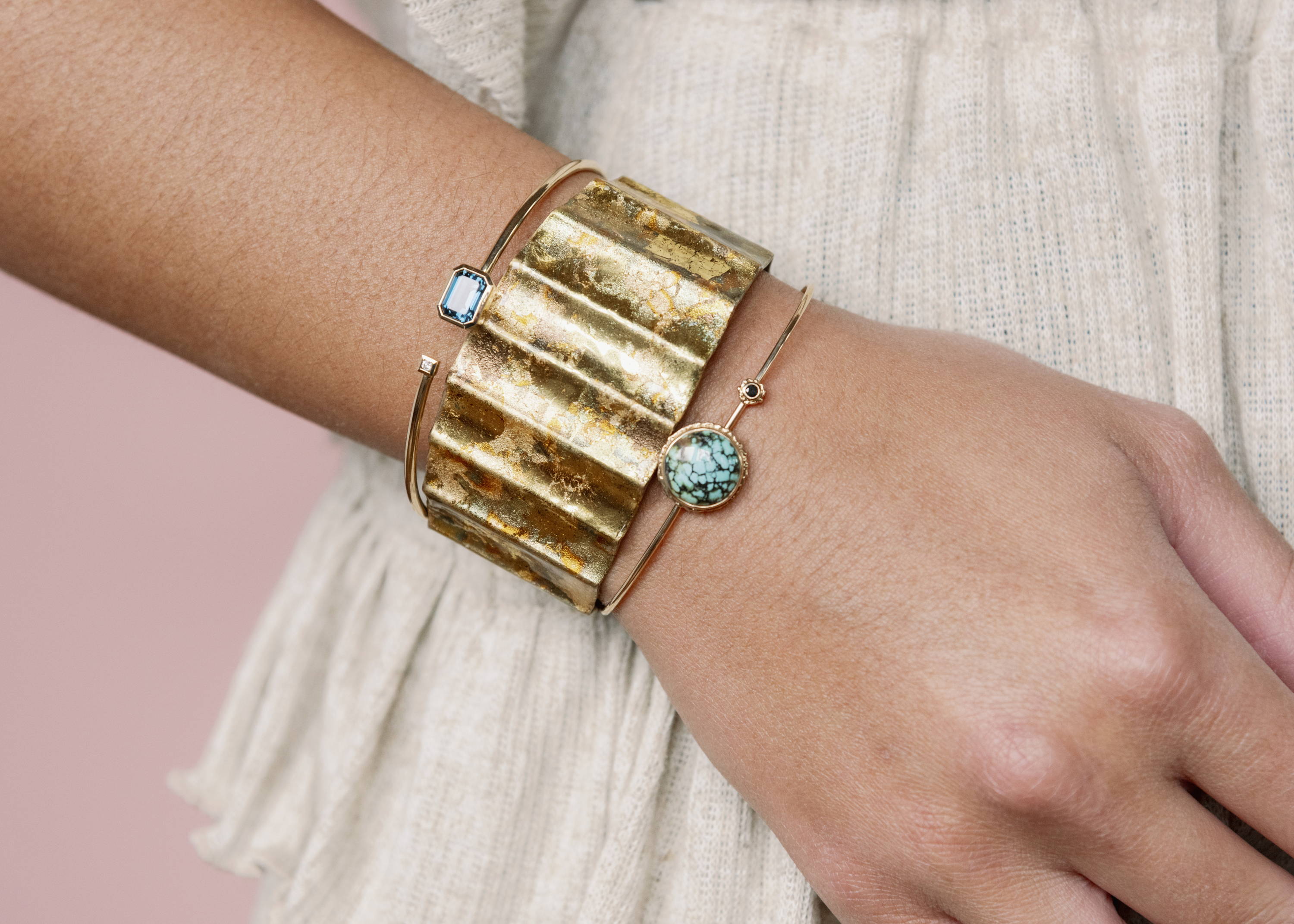 Jewelry and fashion trendsetters promised a year of crushed metals and industrial vibes, such as this 1.5-inch wide textured cuff by Evocateur. Stunning to be sure, but delicate bangles on either side soften the look without taking away the edge and once again add a nice touch of color with turquoise and London blue topaz.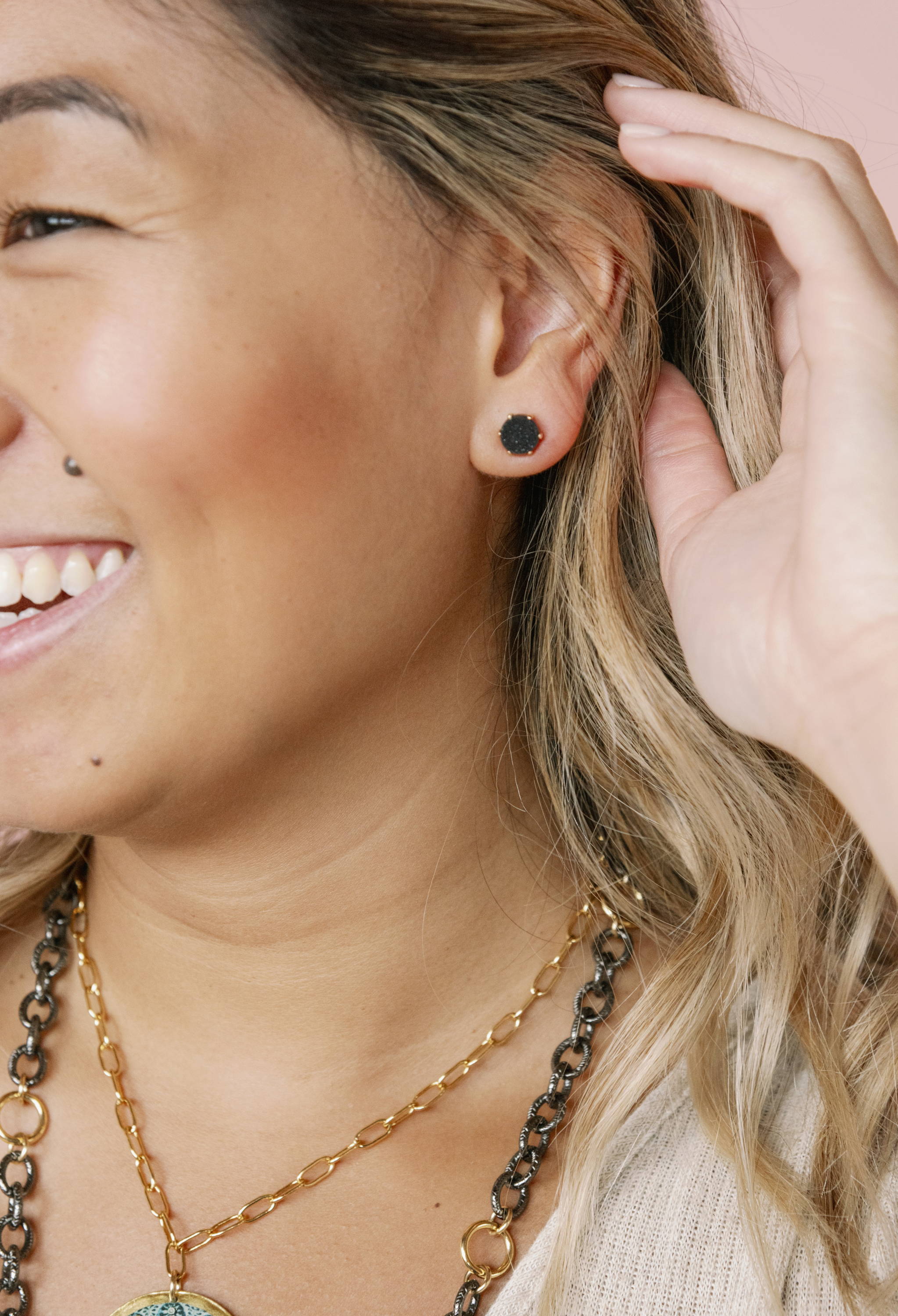 Finish the look with these Brazilian black drusy stud earrings. They're black and glittery and oh-so-pretty!
Chelsea's third jewelry collection is Boho with Southern notes, featuring pieces handcrafted by renowned designer Vincent Peach. It's an affordable luxury brand that combines leather with pearls, opals, diamonds and silver to create jewelry that offers chic wearability.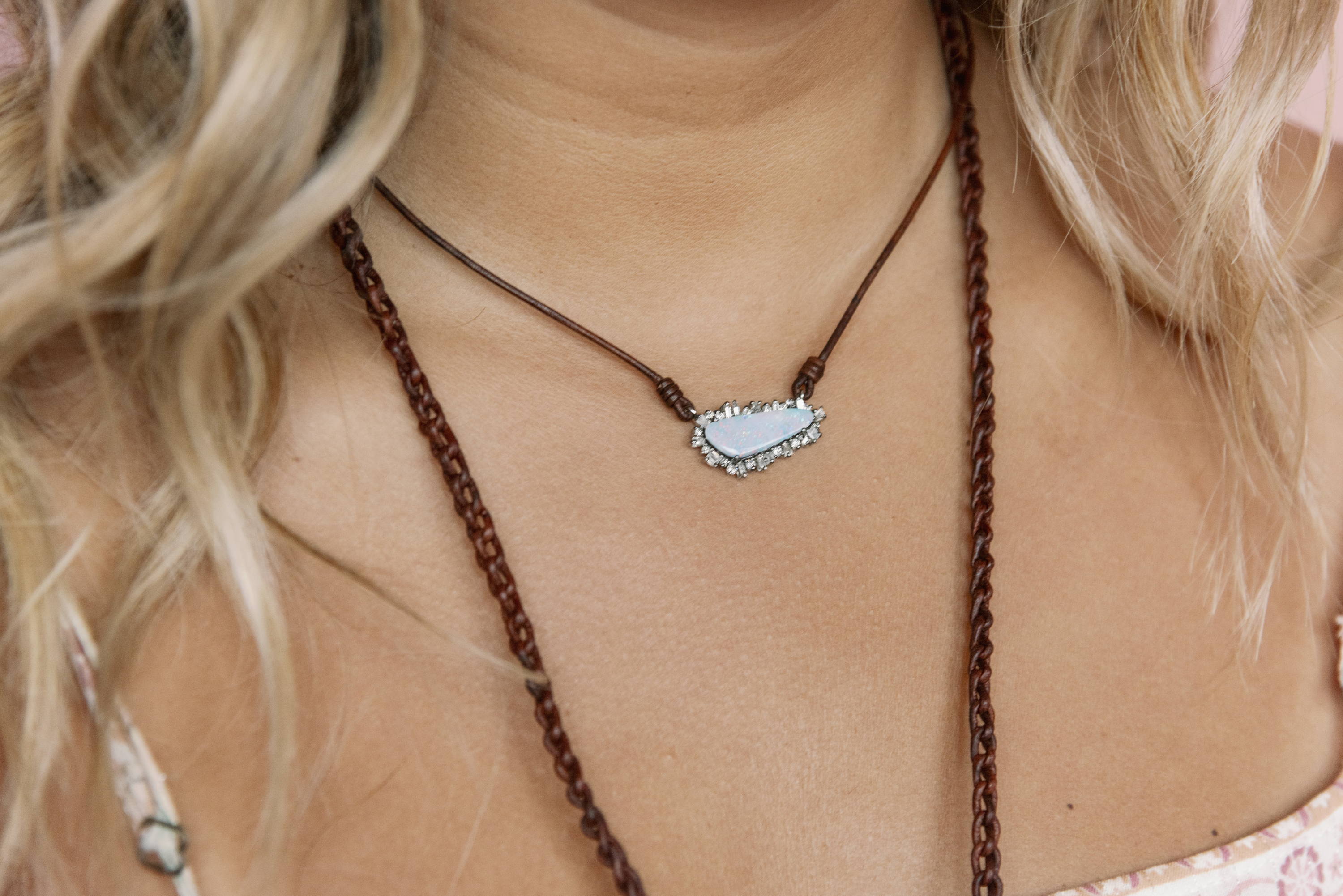 An asymmetrical blue boulder opal is surrounded by mismatched diamonds in this necklace, offering a unique and non-conventional way to wear the beloved gemstone. While this necklace sold recently, we can order Vincent Peach jewelry for customers who fall in love with a specific piece.
---
This 36-inch braided premium brown leather tassel and Tahitian pearl necklace by Vincent Peach is a top seller at Henne. Pair it with a casual dress or Boho top.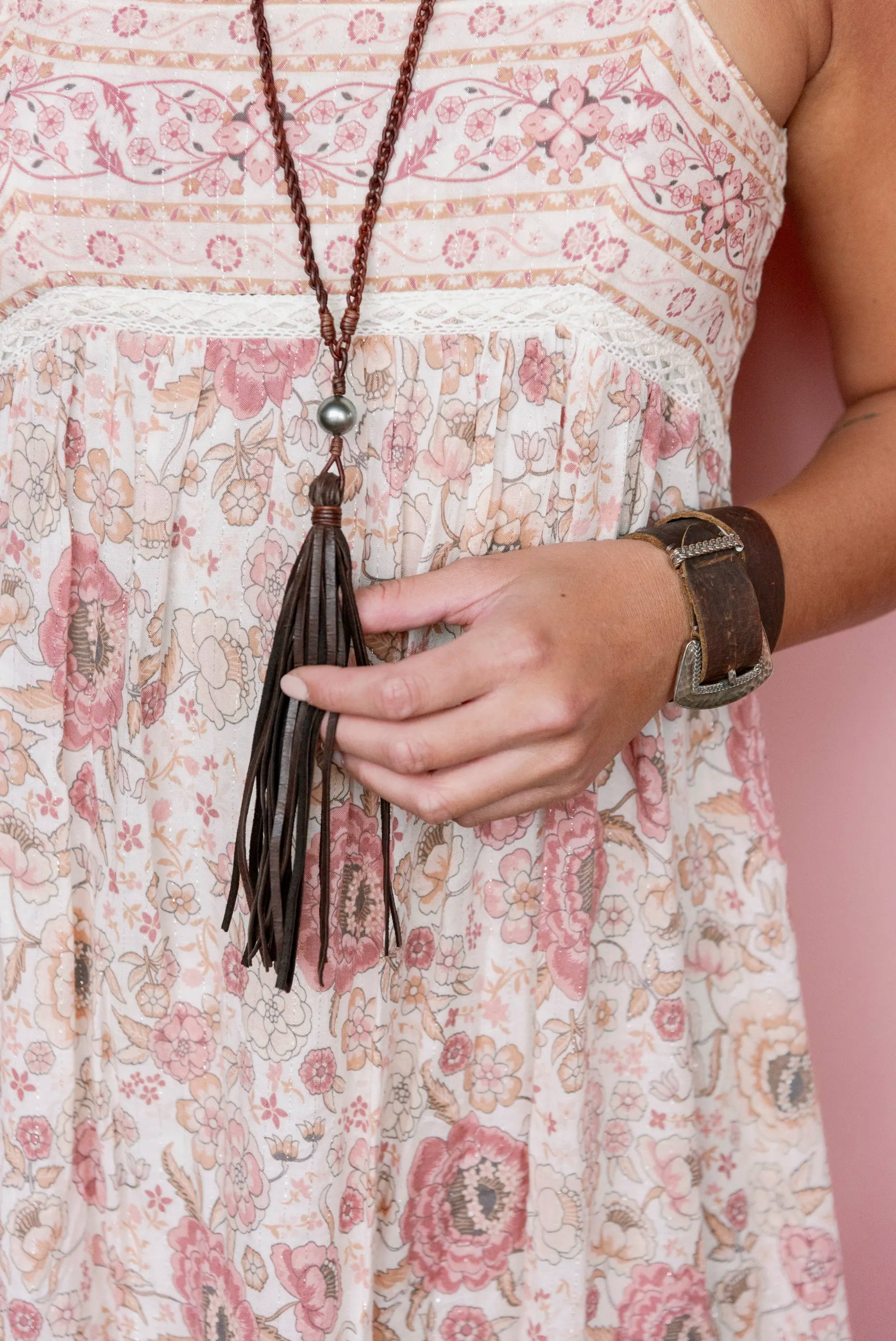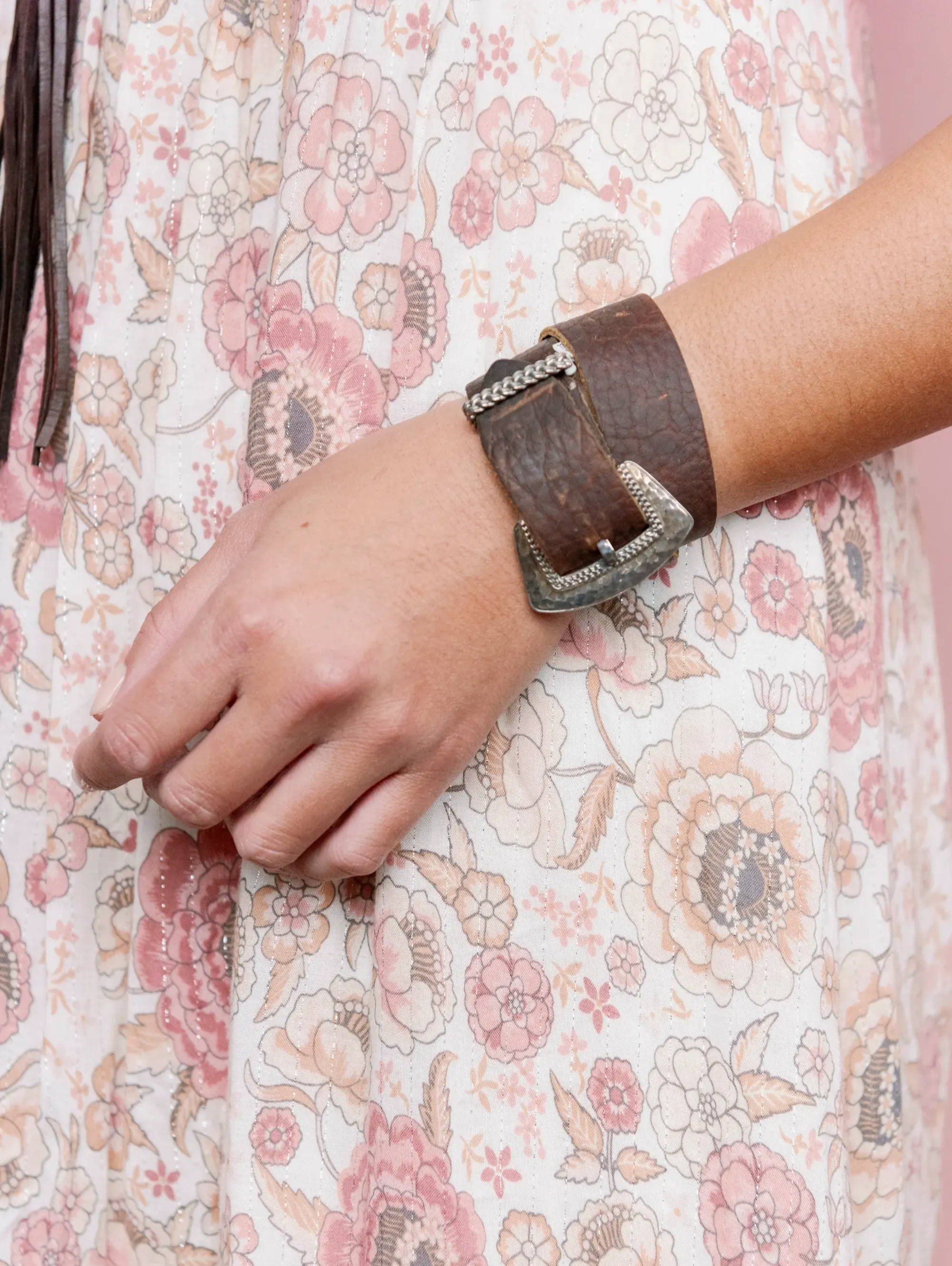 This versatile leather piece can be worn as a choker or bracelet. Chelsea chose to wear it as a wrapped bracelet. The soft premium leather contrasts a hammered sterling silver buckle. We love her dress and the way the pinks and peaches create such a feminine and flowy look!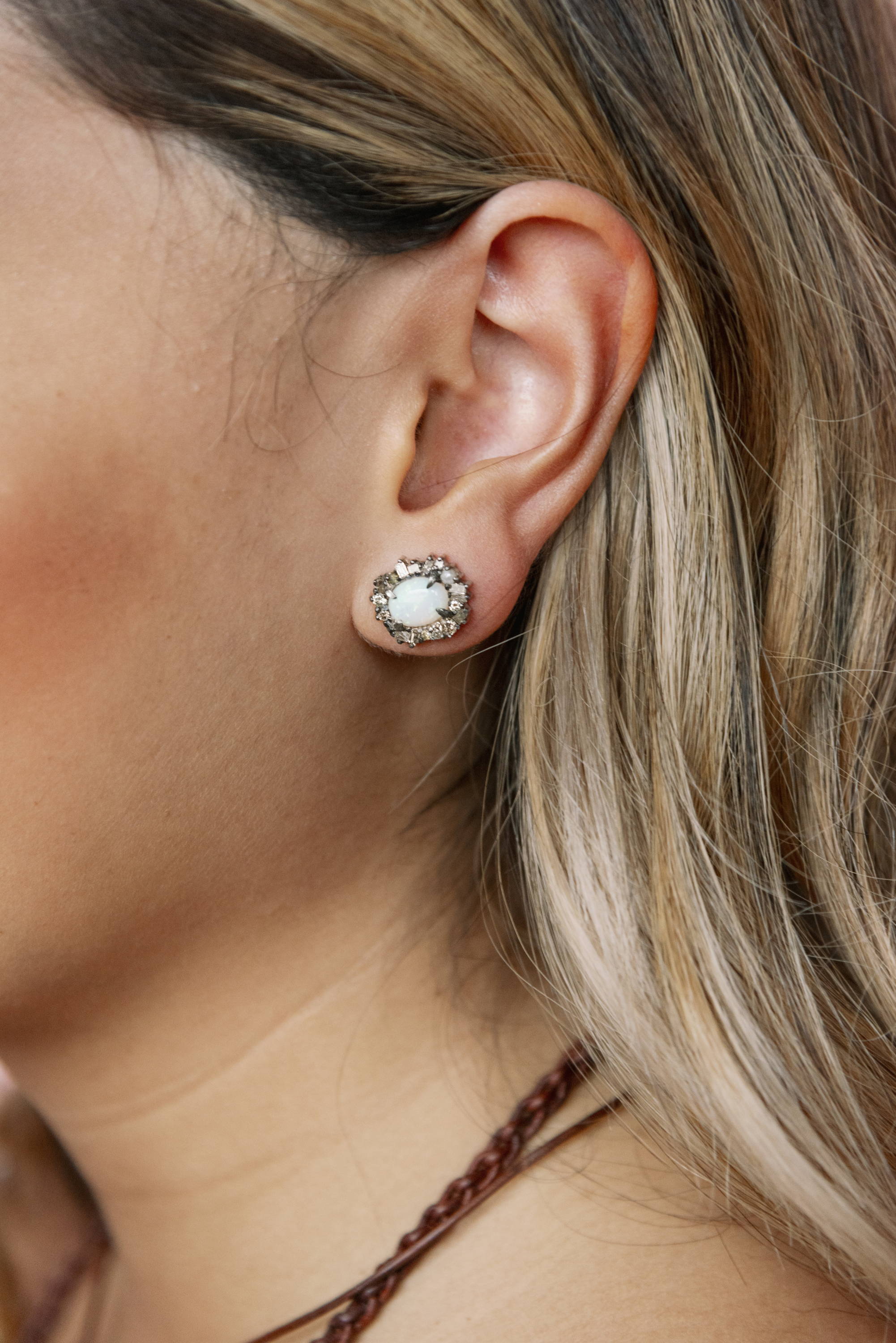 These boulder opal stud earrings once again feature mismatched diamonds and frame Chelsea's face beautifully, also complementing the opal necklace.
Complete the ensemble with an unassuming silver buckle bangle and a beige leather equestrian bracelet with Tahitian pearl and silver bit clasp!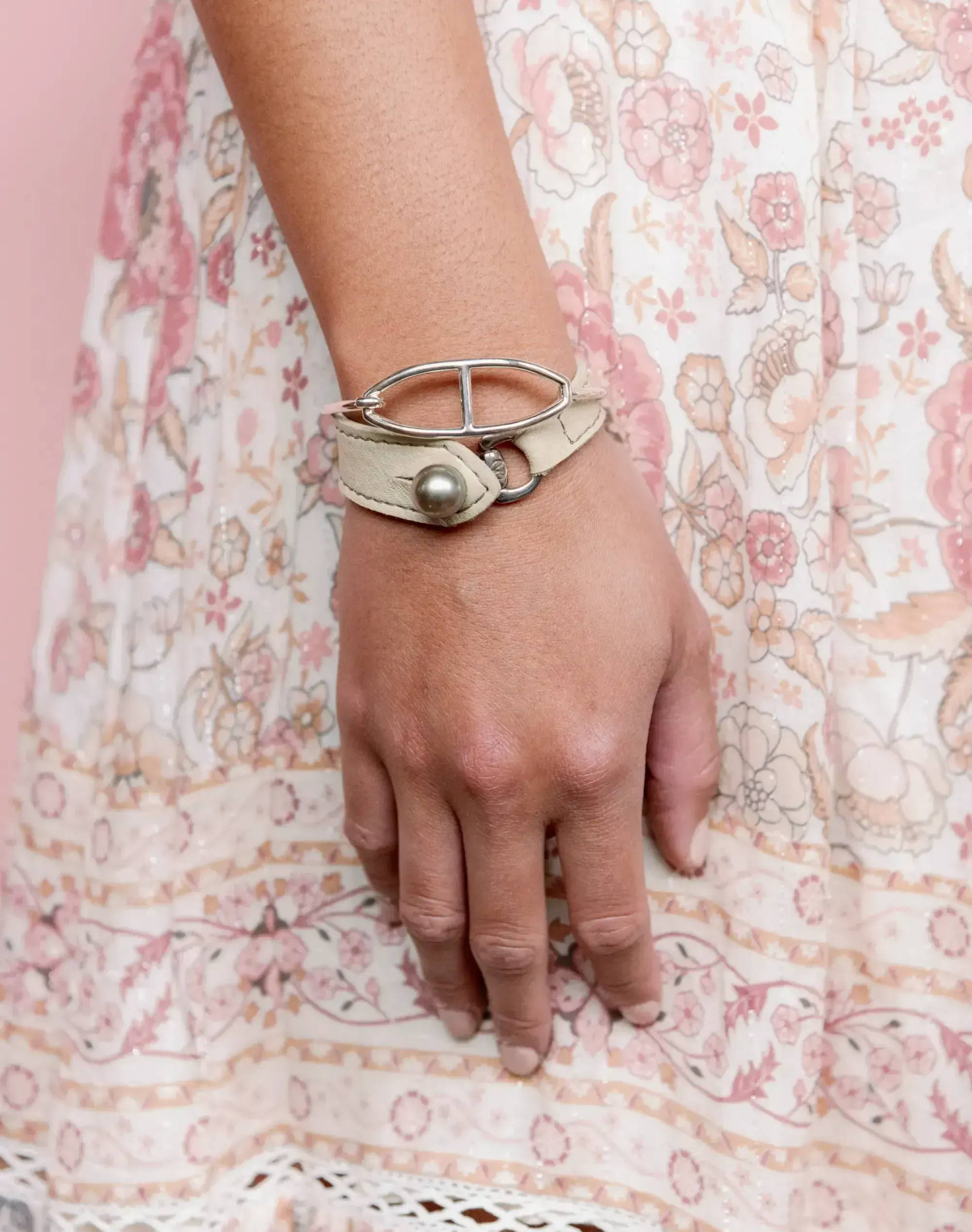 Stay tuned for our next Style Me Henne blog,
featuring stunning jewelry and how to wear it!
---
---