Do you have some older jewelry just sitting in a jewelry box?
Have some gold necklaces, bracelets or rings you'd like to clear out?
Selling gold jewelry
(and other estate and vintage jewelry) is a great way to make some money or even put toward another piece of jewelry. However, there are some things you should know. Our estate jewelry expert shares answers to some of the most common questions we receive.
---
Answers to Frequently Asked Questions on Selling Gold Jewelry
Q: When bringing in gold jewelry and other vintage jewelry to sell, what are my options?
A: You can collect payment, trade them in and put toward another piece of jewelry, or convert into a piece of custom jewelry that you'd prefer more. If you are looking to trade in/trade up, you do not have to make the purchase the same day.
 
Q: Will I receive payment the same day I sell my items?
A: We try to provide the evaluation and payment on the same day you bring in the item(s). However, we do the evaluations thoroughly, so if we have several customers looking for evaluations at one time or if you have a large number of items to be evaluated, the process can take a bit longer.
When you make an appointment and come in, we can give you a time frame for the evaluation and payment.
 
Q: How do I know I'm getting the best price for selling my gold jewelry?
A: We provide payment based on current market prices for gold. Additionally, know that when we evaluate the pieces you'd like to sell, we do it as a piece of jewelry – not just for its metal weight. Because of our expertise with gemstones and diamonds, we have deep knowledge of the value and desirability of estate and vintage jewelry.
 
Q: I have an item that has been appraised. Does that help increase the value? Will I receive that amount?
A: There are many purposes for appraisals – the most common of which is to value an item to be replaced if it gets damaged, stolen, or lost. When you are selling gold jewelry or an estate piece, you should be interested in getting the highest value you can expect to receive (as opposed to the appraised replacement price, which is usually much higher).
There are many factors that go into the current value of a piece – condition, desirability, jewelry period, current market conditions, etc.
 
Q: What if some of the jewelry is broken? Can I still sell it?
A: Yes, we can still evaluate and buy gold jewelry that is broken.
 
Q: Do you buy gold coins and bullion as well?
A: Yes, we buy gold coins and bullion year-round, just like estate and vintage jewelry (primarily gold and platinum, but occasionally sterling silver when it's a desirable brand).
 
Q: If I want to update the gold jewelry because it's a family heirloom, what are my options?
A: When dealing with heirloom jewelry, we can restore the piece or repurpose it and create a design that you'll love to wear.
For example, if the item was originally a brooch, we could convert it to a pendant or bracelet. Or, we can take an old ring or two, use the diamonds or gemstones, and include them in a new design that is much more suited to your style.
We do recommend not reusing the metal from the item(s), because there would be impurities trapped in the melted gold and would end up in the finished product, making it not as structurally sound. Learn more about our custom design jewelry services.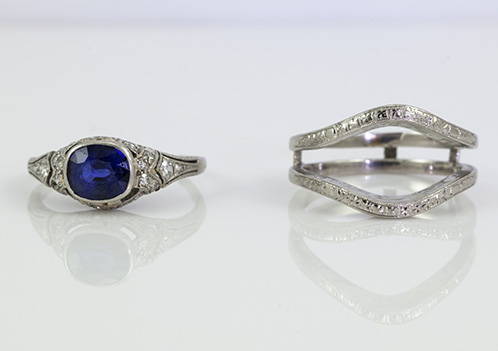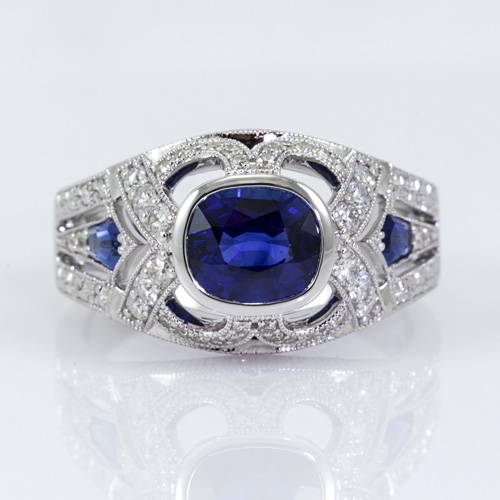 Need some help and guidance?
Our no-pressure staff can help walk you through the process.
---