For those who are born in January, they are fortunate enough to have the wondrous garnet as their birthstone. The garnet comes in many varieties and are most known for their distinctive deep red to brown color tones.
These gorgeous stones are a must-have gemstone for January babies, those celebrating their second anniversary, and for all who appreciate nature's abundance of rich hues available in the wide world of gems. Learning the basics of the garnet is not only intriguing but will set you out on the right direction when you are shopping for these colored stones.
The Many Varieties of the Garnet

The garnet stands out from the crowd when compared to other semi-precious gemstones because of their deep saturated shades. Garnets range from transparent to semi-transparent ("clear" or see-through to almost see-through), to opaque (cannot see-through, cloudy or included with growth patterns). There are numerous varieties of garnet and many names you may hear – Merelani mint garnet, demantoid garnet, lotus garnet, Malaya garnet, Mandarin garnet, amaranth garnet, Uvarovite garnet, and the terms used below, just to name a few.


Rhodolite garnet is a deep luscious grape raspberry shade and can effortlessly take center stage on any jewelry piece.
Rhodolite was originally derived from the Greek word rhodon, which roughly translates into rose colored. The rhodolite can be distinguished from almandine with its lighter color spectrum, and may at times contain inclusions.
Purple is known as the color of royalty. For those who adore purple, this type of garnet is the ideal choice.
Spessartite is a variety of garnet that displays a brownish-red to orange tones, which was originally discovered in Namibia but has also been found in Tanzania, Australia, India and Madagascar. The spessartite garnet exudes a vivid brownish-orange to yellowish-orange all the way to a orangey-reddish or red color.
The Mandarin garnet is the king of the spessartite garnet variety (also known as spessartine), and is perfect for those who love to be seen in a cheery, bright orange shade.
This stunning garnet can be made into bracelets, eternity necklaces, rings, and any other jewelry piece imaginable. It is also cut into cabochons just like other garnets, depending on the style of piece and stone cutter.
Are you seeking something distinctive and unique? Then the vivacious tsavorite garnet is a suitable choice for those who love a vibrant apple green color.
For the gem enthusiast, the tsavorite garnet is a must-have favorite. Tsavorite is a grossularite garnet, and is often mixed in with other colored stones when set into the metal, producing a bursting bouquet of color and luxury.
They are also commonly set with diamonds; tsavorites are luxurious in appearance, giving off a very distinctive vivid tone of yellowish-green to deep green.
The almandine is one of the most common transparent varieties. This species of garnets display a deep rich red color, often compared to a deep red wine. They can be cut in a variety of shapes from round to rectangular, in addition to being a popular round cut side accent stone.
Almandine garnet can be pave, channel, or prong set around the main stone. Its deep color helps amplify and bring out the scintillation and crisp color of the central stone on the ring, pendant, or necklace.
The pyrope garnet has a similar color tone to the almandine and may be mistaken for it.
Although less common than the almandine, it also displays a transparent rich reddish to purplish to almost as dark as black saturated tone, and can be set into a variety of metals, settings, and jewelry items.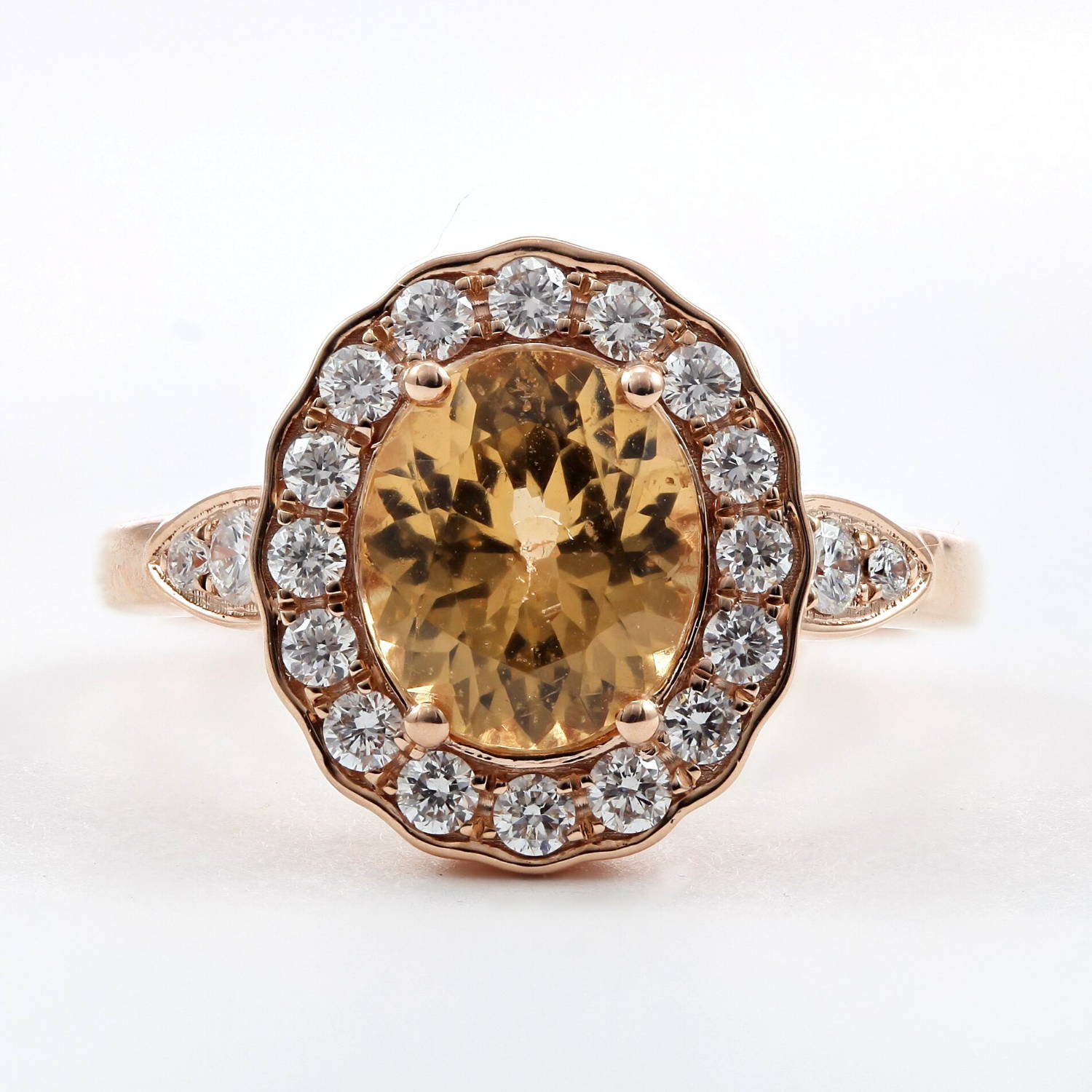 ---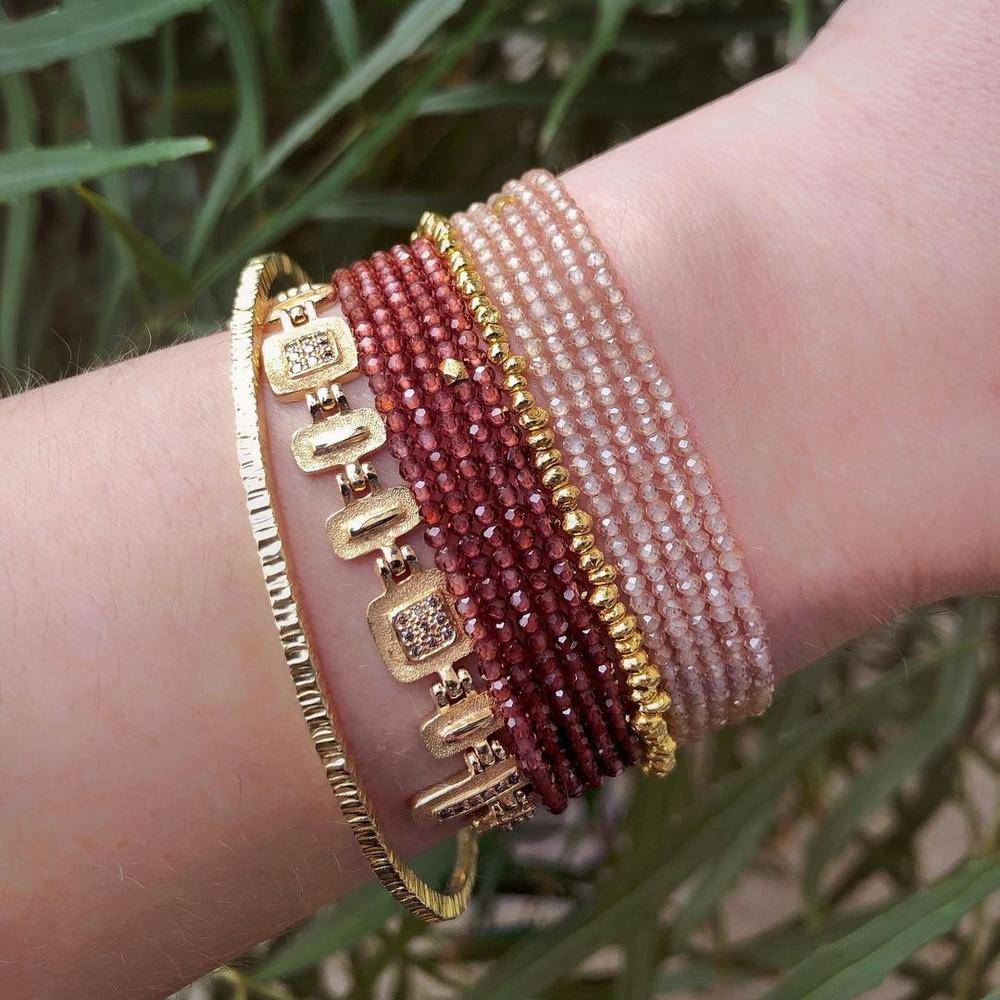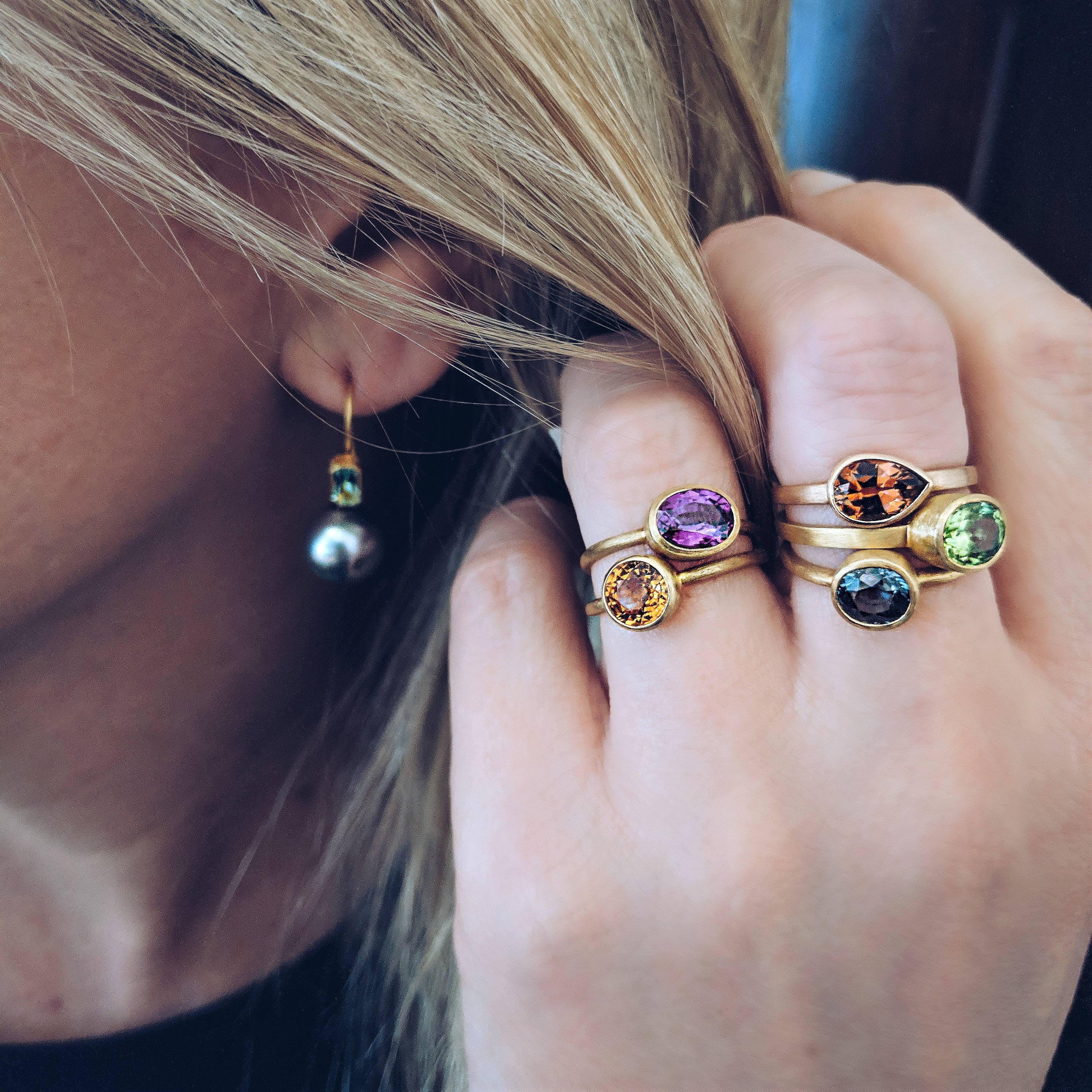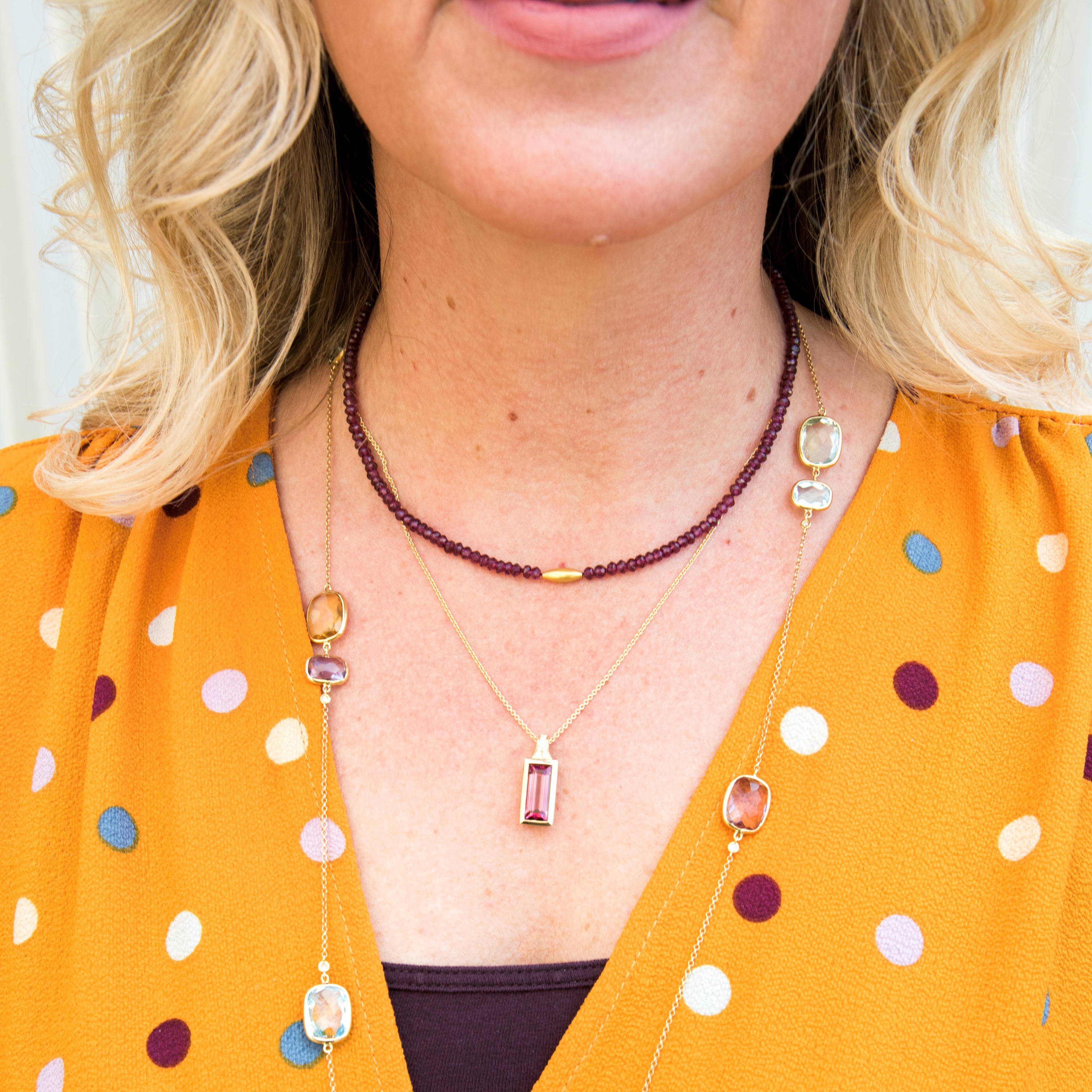 Interesting Attributes About the Garnet
The garnet was often set into the crowns made for royalty. They were a favorite stone among kings and queens. Often thought to have looked like pomegranate seeds, they were named from the Latin word "granatus" or "granatum," which translates into English as "seedlike." They were reportedly sometimes even mistaken for rubies at first!
Garnets are believed to have many metaphysical properties. Some of these include promoting health to the wearer, safety, and self-empowerment when worn or carried in the pocket, handbag, or worn near the heart. Garnets are associated with the heart, circulatory system, and lungs.
Garnets are the designated stone for some of the chakras including the solar plexus and base chakra and are often times used to clear negativity by professional energy practitioners. They are also said to promote wealth and increase fortune once the negative energy has cleared, leaving in its place positivity.
Garnets and You: The Perfect Match

The garnet is a softer stone that can scratch easily, similar to tanzanite. For that reason, garnets are set in channel, bezel and gypsy style settings because the setting protects the stone. Garnets look amazing in rings, but they are not suitable for everyday wear – especially for those who are hard on their jewelry. Tsavorite and Mandarin garnet stones are possible options for engagement rings, but we highly recommend meeting with a gemologist or registered jeweler as you consider your options to make sure you get the right stone and the right setting.
---