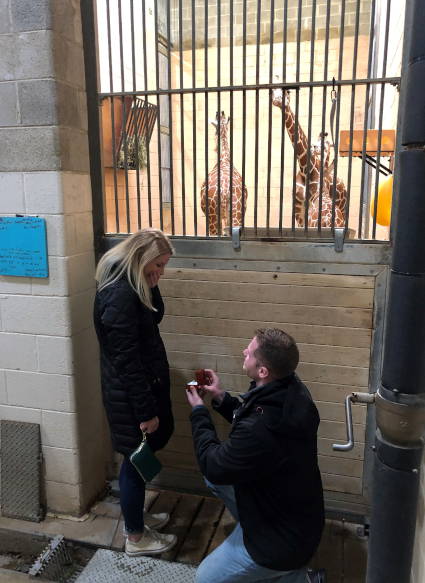 Congrats to Zach and Sara! Zach worked with the zoo keepers at the Philadelphia Zoo to go on a private tour and capture the moment when he asked her to be his forever!
Their Love Story
---
Zach and Sara met at Slippery Rock University and then moved to Pittsburgh together for graduate school. After Sara graduated, she got a job in Philadelphia. Zach plans to transfer with his company to Phili soon so they can start their future together.

Zach booked a private behind-the-scenes tour at the Philadelphia Zoo with the giraffes (one of Sara's favorite animals) and their zoo keepers. There was a five-month-old giraffe as well! The zoo keepers were in on the surprise and took pictures and videos during their tour. At the end of feeding the giraffes, Zach told her he had one more surprise for her. And then he got down on one knee and proposed!
---
Zach and Sara, thank you for choosing Henne and for your trust! We will miss the both of you in Pittsburgh but wish you lots of love and laughter as you continue your lives in Phili.
---