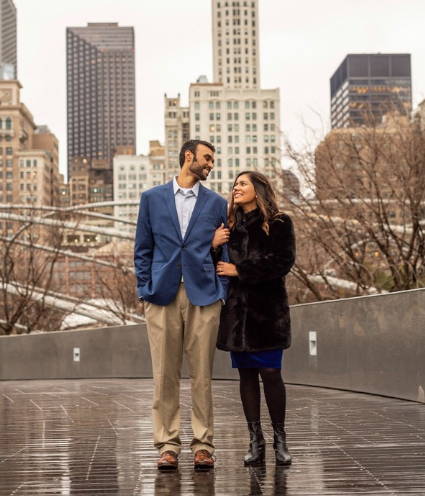 Congrats to Yogin and Niyati on their Chicago engagement!
How they met
---
Yogin and Niyati met online about a year ago, after which Niyati came to Pittsburgh to visit her best friend. And that was the perfect excuse for her and Yogin to go on their first date! They strolled around the city together about 3 times before they went to dinner at Las Velas in Market Square. They each had about 2 chips and 4 pieces of lettuce for dinner because they were so immersed talking to each other! Coming out of that date, they both had the feeling that something special had begun. Soon after, Yogin visited Niyati in New York, where they walked the Brooklyn Bridge together and Yogin officially asked her to be his girlfriend!
---
About the Proposal
---
A few months later, Yogin was looking for the perfect ring for Niyati. He found it at Henne :-) A few months after that, Yogin set up the proposal point inside Lurie Garden in Millennium Park, Chicago. He placed pictures of the two of them on easels leading from the entrance into the garden, where he was waiting. As she slowly started to make her way to the garden, she began to understand what was going on. She saw him waiting at the end with the final picture, and Yogin went out to grab her hand and bring her closer. He got down on one knee, and she said yes!
Looking toward the Future
---
Yogin and Niyati are excited to be planning their wedding and hope to tie the knot in August 2019!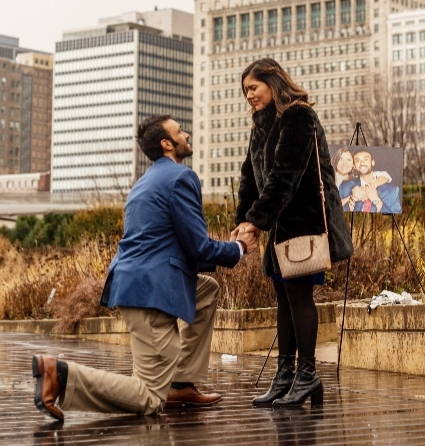 ---
Yogin and Niyati, thanks so much for choosing Henne. We loved helping you choose the perfect ring and hearing about the proposal. Have a great year as you plan your forever together!
---