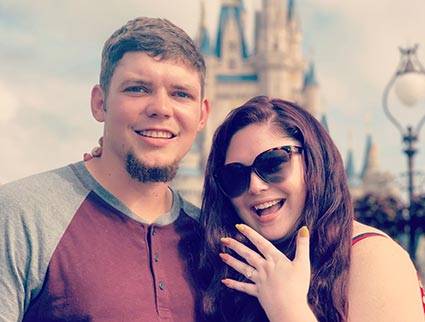 How they met
---
Tyler and Summer had mutual friends for years but never got introduced and never formally met. They were both at the same park playing volleyball and ended up being on the same team and after that it all fell into place! They became best friends and shortly after decided to be exclusive and have been together everyday since 4 years ago.
---
About the Proposal
---
Their best friend lives in Florida, and they were planning a trip to visit her and their goddaughter. Tyler knew Summer always loved everything Disney, especially Cinderella's Castle at Walt Disney World. He planned the proposal with their friend from Florida for 2 months. He told Summer that he wanted to take a day trip to Disney World, since he'd never been there.

When they got to the park, he changed their goddaughter's shirt to one that said, "Will you marry my God Dad?" while Summer's back was turned. When she turned around, she read the shirt and Tyler was down on one knee!
Looking toward the Future
---
Tyler and Summer eventually want to buy a house and build their family!
We love celebrating our Henne couples. Thank you for sharing your #HenneMoments with us!
---