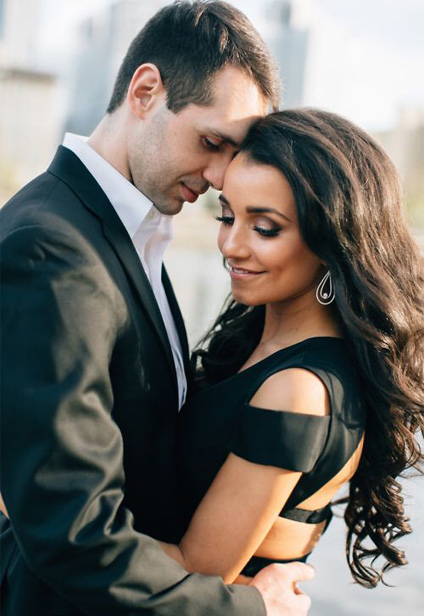 He saw her, and he knew he had to meet her. And that's what he did. Nicholas spotted Stephanie during the White Coat Ceremony and ran up to introduce himself to her as she was walking through the medical school doors. From the highs and lows of med school and residency to travel and wine tastings, they've been through a lot together. And in May, they tied the knot at the Carnegie Museum of Art.
How they met
---
Nicholas and Stephanie met at White Coat Ceremony at the University of Pittsburgh, the event symbolizing their initiation into the medical profession and the start of medical school, on August 8, 2010. In fact, Stephanie's mom unknowingly captured a photo from across the street of the very moment leading up to their meeting which shows Stephanie walking through the medical school doors while Nicholas ran up behind her to introduce himself. Their first conversation happened right inside those doors. Little did they know where it would lead!
---
About the Proposal
---
Nicholas came to Pittsburgh for the weekend and told Stephanie he had planned a special Valentine's Day wine tasting -- one of their favorite activities. They went to Arriba Wine Bar, where they sat down at the bar and each ordered a wine flight. Stephanie should have known something was up when Nicholas didn't take a single bite of the charcuterie he ordered!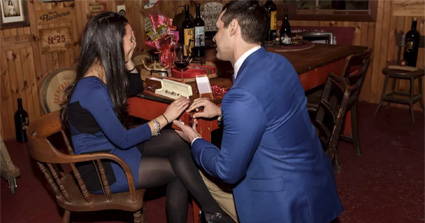 Soon after, the winemaker introduced himself to the two of them and, after a while, asked if they wanted to take a tour of the downstairs wine cellar. Stephanie was excited to see behind the scenes as she and Nicholas had just gotten back from Napa. They walked down the stairs as Stephanie joked, "Is this some kind of Valentine's surprise you do for couples?" After walking through the rows of barrels, Stephanie saw a table set with two wine glasses and decorated in a Valentine's Day theme. The two of them sat at the table as the winemaker poured them each a glass of wine. After a few sips, Nicholas asked Stephanie if she wanted her Valentine's card. She was taken aback when he pulled it out from behind the centerpiece - how did that get there?! After Stephanie finished reading the card, Nicholas asked her if she wanted her gift. From behind the centerpiece, he pulled out a gift box. Inside was a bracelet with charms spelling, "Marry Me." Stephanie looked up to see him down on one knee with a ring in hand, and she promptly burst into tears!
The surprises didn't end there! The two headed to Hyde Park for a celebratory dinner, and, as Stephanie walked in, she was shocked to see both her family and Nicholas' family there waiting for them. The tears started again! They enjoyed a bottle of champagne sent by Stephanie's grandmother in California and a bottle of wine with their photo on the label and the caption, "She Said Yes!"
About the wedding
---
Nicholas and Stephanie tied the knot on May 26 at the Carnegie Museum of Art. It was a day filled with love and laughter, and unforgettable moments with family and friends.
---
Nicholas and Stephanie, you are a class act couple. Thank you for trusting and choosing Henne. We wish you all the best in your careers and your life together.
---