Congrats to Nate and Alyson, who got engaged on the rooftop biergarten at The Commoner!
How they met
---
Nate and Aly have known each other since they were teenagers, when she was about 14 and he was 16 and they met at a mutual friend's house one summer in high school. Eventually they ended up attending Ohio University together and were good friends throughout those years. They realized they were meant to be after they finished their masters degrees, and the rest is history!
---
About the Proposal
---
Nate told Aly they were meeting his sister and brother-in-law for dinner at The Commoner in Hotel Monaco. They arrived "early" and had some time to kill, so he took her to the rooftop biergarten to check out the views. A few moments later, he got down on one knee. Little did she know, his sister and brother-in-law were hiding out in the nearby ballroom and captured everything on camera. Then they all went down to The Commoner, where both of their families were waiting to celebrate with them.
Looking toward the Future
---
Nate and Alyson plan to get married in the next year or so. They've begun planning and are excited to continue their life journey together!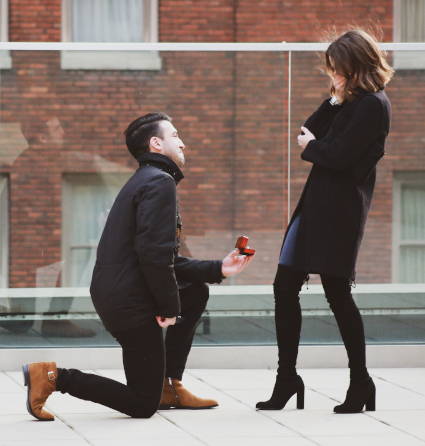 ---
Nate and Alyson, congrats to you both. Your photos radiate happiness, and we wish you all the best as you plan the big day.
---