How they met
---
Chelsea, a teacher waiting for school to start, and Matt, a graduate student waiting for school to end, both found part time summer income (and kismet) at Smoke Daddy BBQ restaurant next to Wrigley Field in Chicago. One day after Matt's graduation and one day before he was flying to Portland, Oregon for his younger brother's wedding, Matt got the courage to ask Chelsea to go out after work. They connected instantly, and after returning from baby brother's wedding week, spent the rest of the summer together falling in love. Matt left for a new job in Pittsburgh in the fall, but returned often to see Chelsea as she completed her first school year in Illinois. The next summer, Chelsea found her own gig in the 'Burgh, and the two were never to be separated again.
---
About the Proposal
---
Lake Geneva, WI held a second home for Chelsea's childhood, and thus, a permanent place in her heart. Matt, struggling to find a way to convince the spontaneous Chelsea to be any specific place at any specific time, "impulsively" bought tickets to a lake cruise. Early on in the relationship, Chelsea shared that her best friend Lauren "had to be" at her engagement to celebrate. So when the couple got off the boat, Matt pointed to the neighboring dock across the water and said, "Hey doesn't that girl look like Lauren?" Chelsea, thinking her best friend was in London, went from surprise to awareness, as Matt knelt to propose, to jubilation, as the rest of their friends and family emerged from the boathouse to celebrate upon her acceptance.
Looking toward the Future
---
The couple is scheduled to close on a North Side Pittsburgh house in early September, then turn their attention to finding furniture and wedding venues with summer availability.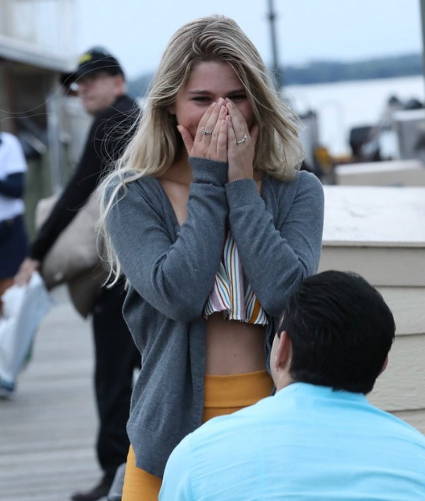 ---
We love celebrating our Henne couples. Thank you for sharing your #HenneMoments with us!
---