How they met
---
Mark and Catherine knew each other through mutual friends from college--they both went to Notre Dame. They had even met a few times in Chicago throughout the years (most memorably at a Steelers Bar in Chicago on New Years Day!) But they didn't *really* meet until they both moved to New York in 2017-Mark for residency and Catherine for law school! The two reconnected on a first date at a bar on a boat in the Hudson River called Grand Banks--the rest was history!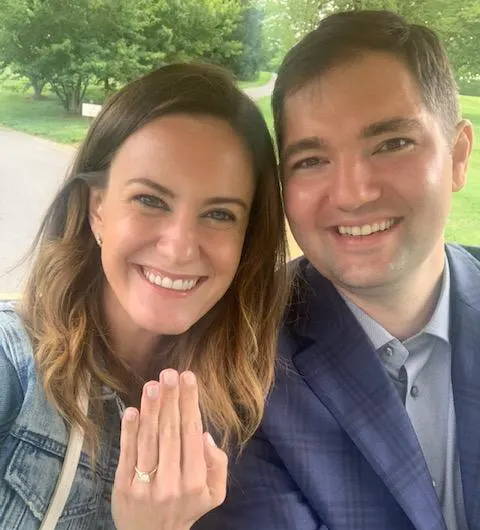 About the Proposal
---
Mark's original plans were derailed by the pandemic, but it ended up working out perfectly! After Catherine wrapped up her second year of law school, he took her on an amazing road trip to the Smoky Mountains ending at a beautiful place called Blackberry Farm! He got down on one knee before dinner on Adirondack chairs overlooking a gorgeous vista, and they shared an amazing meal afterwards at the famous Barn restaurant at the Farm!
Looking Toward the Future
---
Mark and Catherine are getting married at Notre Dame in September 2021, which is such a special place for both of them! Catherine will be a litigator at a firm called Arnold & Porter, and Mark will pursue an orthopedic surgery fellowship and go on to practice sports orthopedics as his specialty! They are so excited for what's to come!
We love celebrating our Henne couples. Thank you for sharing your #HenneMoments with us!
---