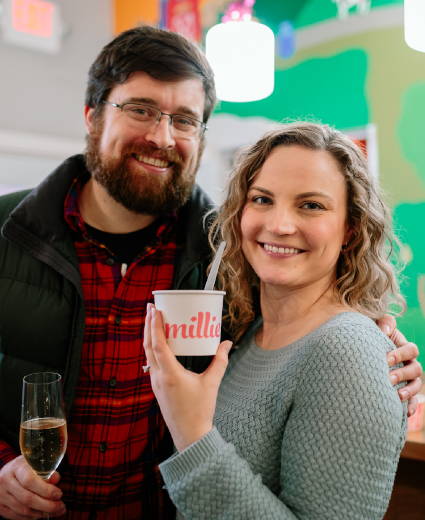 Congrats to Lee and Shauna, who got engaged at Millie's Ice Cream in Shadyside!
About the Proposal
---
Lee told Shauna they were going to brunch at a friend's and needed to pick up ice cream at Millie's on the way. (Millie's is one of their favorite date spots.) It was raining and their sign said closed, so Shauna didn't want to get out, but Lee convinced her to come check if they were there. They were and let them in. Lee and Shauna were taste testing and deciding which flavor would go best with waffles when Lee got down on one knee! Of course she said yes, and then their closest family and friends came out of the back room! They all celebrated with ice cream (of course!) and then headed to brunch at Casbah, another great Shadyside establishment.
---
We are so happy that the proposal went down as planned and honored to have helped to make it possible! We wish you the best years ahead!
---