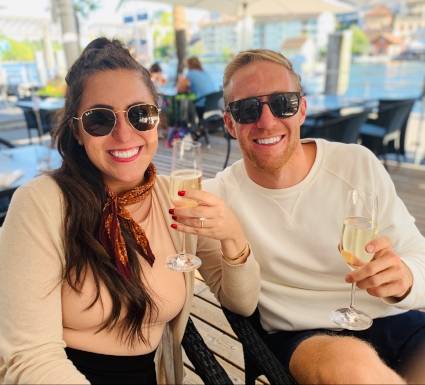 How they met
---
Tara and Kris met through friends in 2012 when they were both living in the Southside. Their friendship blossomed over many late nights at wonderful establishments such as Carson City, Local and the Rowdy Buck, to name a few. We say the best relationships are built on friendships, and theirs is no exception. They decided to make their relationship official in 2015, and they haven't looked back once. Tara and Kris now own a house and a beautiful golden retriever in Carnegie, PA.
---
About the Proposal
---
Kris was lucky enough to propose to his future wife in front of the largest waterfall in Switzerland on a beautiful August day. It was especially meaningful because Switzerland is his family's country of origin.
Looking toward the Future
---
They are both hardworking professionals with a love for travel. They plan to continue working hard and seeing the world over the next few years before starting a family. They are looking to get married next fall.
---
We love celebrating our Henne couples. Thank you for sharing your #HenneMoments with us!
---