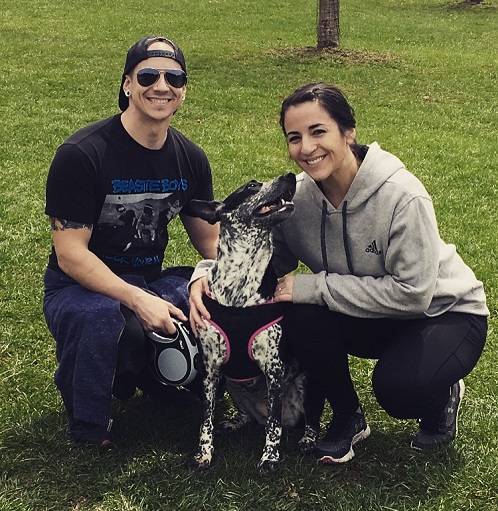 Justin proposed to Samantha at Disney World in the most magical way, during the Magic Kingdom fireworks show, in front of her loving family.
How They Met:
---
Justin and Samantha met in 2014 through a dating website. Their hometowns are about an hour and a half apart, so they spent most weekends together getting to know one another and enjoying countless late night phone calls. About a month after casually dating, Justin asked Samantha to be his girlfriend!
Fast forward 4 years, the couple has learned so much from one another and has spent a ton of time enjoying each other's laughter, childlike spirit and comfort.
The proposal:
---
In December 2017 they traveled to visit her family in Florida, something they typically do once a year. They love Disney World and usually make a point to go to all the parks, so Samantha didn't realize that Justin had something extra magical planned. (A few weeks prior, he had asked Samantha's father for her hand in marriage.) Samantha's Dad surprised her that morning with a visit, and the whole family went to watch the Magic Kingdom fireworks show by the lake.
Justin and Samantha were watching the show when Justin asked her if she wanted to get their picture taken with the fireworks in the background. Her family got ready to take some pictures of them, and when she went to put her arm around him, he bent down on one knee with a beautiful engagement ring in his hand. Samantha said she went into shock and started crying, not even hearing him ask her to marry him!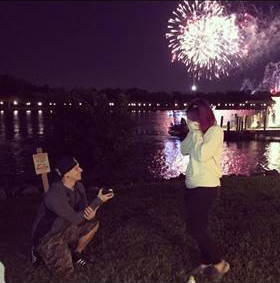 After the initial shock, she of course said YES, and Justin unveiled another surprise for her -- they went into the Grand Floridian Resort and were greeted with a bottle of champagne, then led to the patio deck of the resort (which has a perfect view of Magic Kingdom) where they were able to continue celebrating their engagement.
It was, of course, the most magical moment ever.
Looking forward:
---
Justin and Samantha are planning their forever life together and recently bought their first home, where they live with their adorable dog, Koda. They will get married on June 8, 2019, and the wedding will be inspired by Samantha's favorite Disney character, Snow White.
Justin and Samantha, thank you so much for being a Henne couple! Your love story and proposal are a real-life fairy tale, and we're glad we could be a part of it. Wishing you many years of love and laughter together!
---