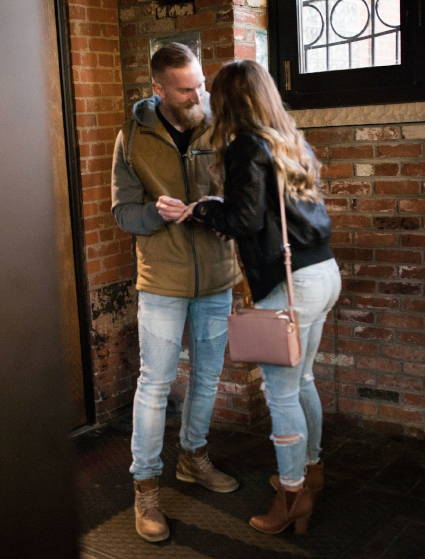 Marissa thought she was walking into Jesse's 31st birthday party, but there was even more to celebrate!
How they met
---
Jesse and Marissa met through a mutual friend when they lived in Erie, where she was a realtor and he was looking to flip his first home. Her Mom suggested she date Jesse, but at the time he was taken. Once he became available, Marissa asked him to hang out several times before he finally said yes! Once they began to hang out, they immediately hit it off.

A few months into dating, Jesse took a job in Pittsburgh and moved. They did long distance for a few months until Marissa decided to move to Pittsburgh as well. During that first year of dating, they experienced a lot -- family health issues, got a puppy, moved in together in a new city, and started their redevelopment company!
---
About the Proposal
---
Jesse proposed at his 31st birthday party, at Duke's Upper Bar in Homestead. Marissa thought she was walking into a party for him, but in reality he had invited all of their friends and family from Erie and Pittsburgh. She walked into the private room, and she saw everyone standing there with their phones out. Bruno Mars' "Marry Me" was playing in the background. She still wasn't sure what was going on, but she saw her mom and best friend...and then she realized something else was about to happen. She turned and looked at Jesse, who was down on one knee. Of course she said yes, and everyone was able to really celebrate!
Looking toward the Future
---
Jesse and Marissa would love a destination wedding, and they are currently in the planning stage.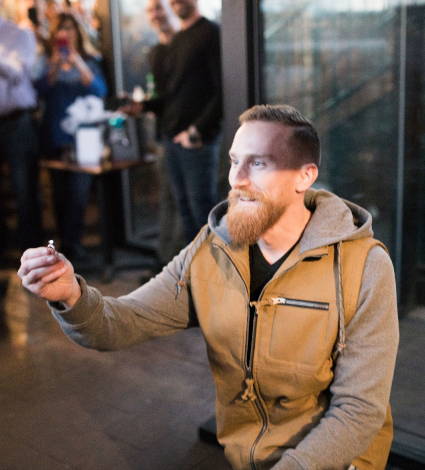 ---
Congrats to you both! The image of Jesse on one knee is priceless. Thank you for trusting Henne to be part of your special story.
---