How they met
---
Lisbeth and Jeimmy met 9 years at North Carolina State University. There was a social after their orientation and they both attended. After a few songs, he built up the courage to ask her to dance to which she quickly said no, twice. As the semester progressed, they both made NC State's Latin dance team and became good friends. As fate would have it, their paths would cross multiple times even though they never lived in the same city post-graduation. The most recent of those times was 15 months ago at her startup's launch event, which is when they started dating.
About the Proposal
---
The proposal happened in Lisbon, Portugal on October 22. Since Jeimmy is currently pursuing an MBA, they agreed to travel during his fall break to Spain and Portugal. Jeimmy had this grand vision of proposing in Sevilla, Spain, but the planning aspect of it would have given the surprise away since he had no idea the ring would be ready in time. He decided to be spontaneous and propose when the moment felt right. After almost doing it in Granada while overseeing the Alhambra and in Sevilla overlooking the cathedral, he proposed in Lisbon. The terrace was overlooking the city and a famous elevator; there was slow music playing; and the sun was setting.
Looking Toward the Future
---
Once Jeimmy finishes his MBA in May 2020, They will be moving to Chicago for a few years before returning to Raleigh, NC.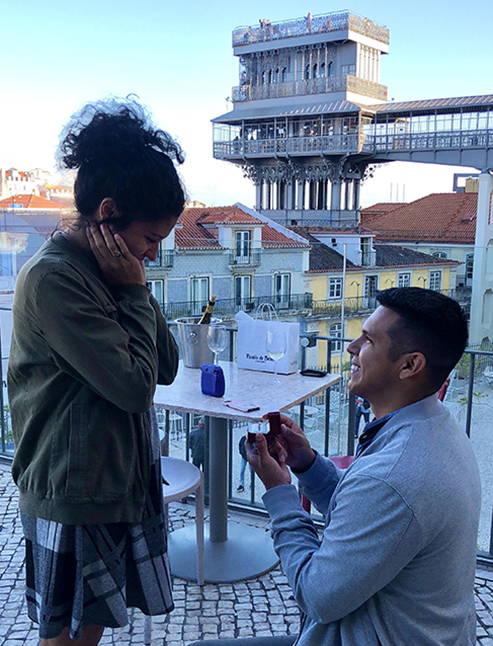 ---
We love celebrating our Henne couples. Thank you for sharing your #HenneMoments with us!
---