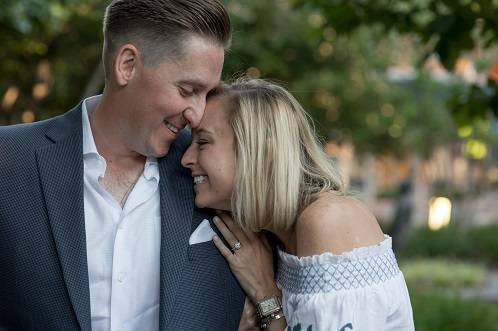 Congrats to Jason and Tracy on their engagement! Tracy's reaction is priceless. Kudos to @pghpetphotog, who caught it on camera!
How They Met:
---
Jason and Tracy met through her sister Lindsay and her fiancé, Zach. Zach and Jason went to elementary school together and stayed friends as they grew up. Ironically enough, they fell in love with sisters!
The proposal:
---
Jason and Tracy recently got a puppy, so Tracy admits she was really distracted with puppy training. Little did she know Jason had another big moment in mind as well.
Jason hired @pghpetphotog, who hid in the bushes waiting to capture the moment on camera! He got down on one knee at Firstside Park in downtown Pittsburgh and asked her to spend forever with him.
Afterward, they went to Or, the Whale, where Jason had arranged for Lindsay and Zach to surprise her (they drove in from NYC).
Looking forward:
---
Tracy says she is still shocked and can't believe it. She feels so lucky to have a guy like Jason and looks forward to spending the rest of her life with her best friend and soul mate.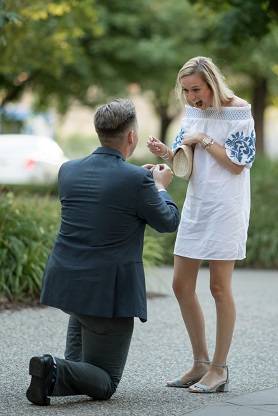 Jason and Tracy, thanks so much for trusting Henne and allowing us to be a part of your love story. We can't wait to hear more about your wedding plans!
---