Ian and Lauren have an amazing story with a lot of trials and tribulations, culminating in a unique proposal and a unique ring!
How They Met:
Ian and Lauren met in Annapolis, Maryland about 5 years ago through their jobs. (Ian was a custom yacht builder, and Lauren was a yacht designer for the same company.) Prior to meeting Lauren, Ian had planned to join the Navy, and Lauren supported him to follow his passions.

Unfortunately, shortly after he joined Lauren found out she had a brain tumor. While it was treatable, it was inoperable and made it difficult for the couple to see each other. It even affected her memory of him. Ian was there every step of the way, always making her top priority. A year and a half following the diagnosis, Lauren received the 'all clear'. At that point, they knew that they could get through anything, so Lauren moved to Florida where he was stationed.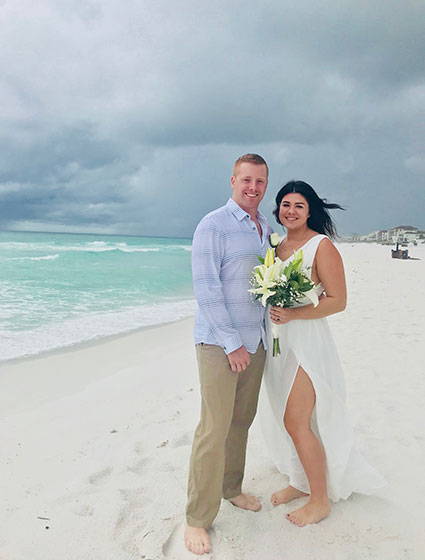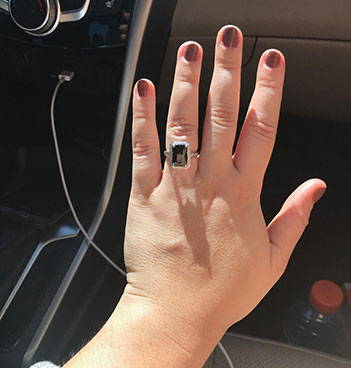 About the Proposal & Wedding
Lauren told Ian that she wanted a unique ring that would reflect their relationship and their story. Ian proposed in March 2018 while they were diving with manatees, something that had been on Lauren's bucket list for a long time -- and because water had always been important to them. There were tons of manatees and their calves in a beautiful spring when Ian pulled out the ring -- a beautiful emerald-cut Burmese dark blue spinel and diamond ring.
Ian and Lauren decided to elope a few months later. They got married on the beach near where they were living on May 26, 2018. It was intimate and personal, and of course near the water once more. They are currently planning a second wedding/reception in Pittsburgh involving their family and friends when Ian comes back from his current deployment.
Ian, wherever you are, thank you for your service. And to Lauren, for your support as well. We wish you many years of health and happiness. Thank you for being a Henne couple!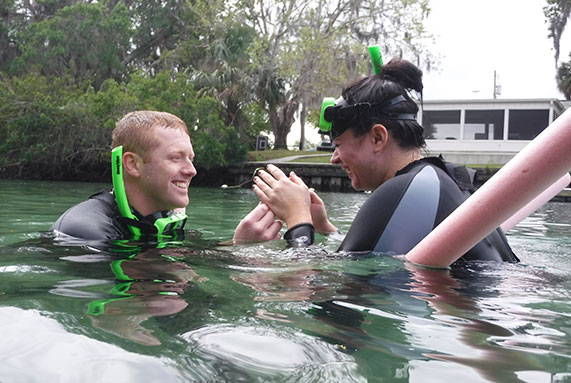 ---