How they met
---
Geoffrey and Zoë had a modern romance, they met online.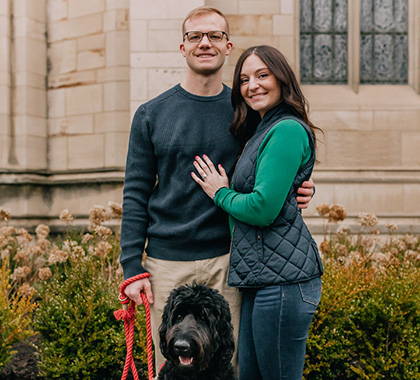 About the Proposal
---
After only 48hrs of shopping for a ring, Geoff had a ring in hand (thank you, William). It was New Year's Eve and the couple planned on having dinner with Geoff's family in Ohio. But prior to dinner Geoff, employed his sister and her husband to meet them in Chagrin Falls, Ohio, a quaint town in the northeast part of the state. Geoff promised Zoë that the area had a beautiful scenic view and lots of places to shop. Since Zoë had not been to this part of the state, she really had no expectations for what people do when they travel to this town, which made her even more unexpecting (especially when unbeknownst to her, the plans changed).
When they got to Chagrin Falls, they realized that the scenic overlook just above the falls was closed due to inclement weather. Luckily, Geoff's sister called him and they coordinated a new spot that overlooked the falls. When they got to the location Geoff walked Zoë toward the water, muttering something about what tributaries feed the river. As Zoë looked over the railing, Geoff got down on one knee in front of the falls. At first Zoë was so excited that she forgot to say yes...but then said "of course, yes!"
Looking Toward the Future
---
Geoff and Zoë are planning a wedding in June 2021. They can't wait to celebrate their love with their friends and family.
We love celebrating our Henne couples. Thank you for sharing your #HenneMoments with us!
---