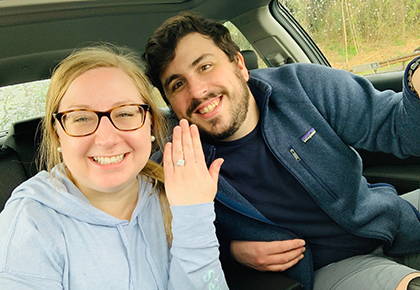 How they met
---
Christina and David met back in September 2018. David was living in Philadelphia at the time, but went down to Washington, DC for his birthday to celebrate with friends. There was a brunch outing planned by a mutual friend and Christina and David sat across from each other at that brunch - the rest is history!
About the Proposal
---
Given the COVID-19 situation, Christina and David were unable to go on their family vacation in the Smoky Mountains of Tennessee. The proposal was supposed to happen there, with his family present and being near her family in her home state. David decided he still wanted to make the week special, and planned an Easter egg hunt for her, filled with clues of their favorite things to do and favorite outdoor spots to explore. They explored Old Town Alexandria, Virginia and then headed over to the scenic overlook off of the George Washington Memorial Parkway in Arlington, Virginia. Christina was so excited about the clues in the eggs, she never saw the big question coming! She was super surprised. Unfortunately, the weather took a turn to pouring down rain, but they were able to go back a couple days later for a picture in the bright sun!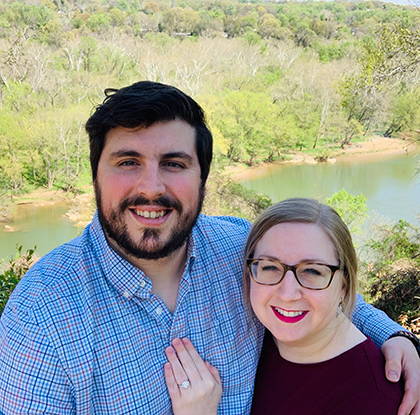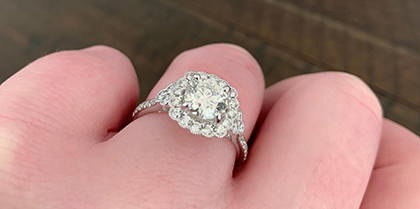 Looking Toward the Future
---
Since they are unable to do much of anything with the COVID-19 situation, David and Christina decided to focus their efforts on planning right away! They decided they want to get married somewhere in East Tennessee - either the Smoky Mountains or in Knoxville. Looking at dates for next spring 2021 - most likely late March!
We love celebrating our Henne couples. Thank you for sharing your #HenneMoments with us!
---