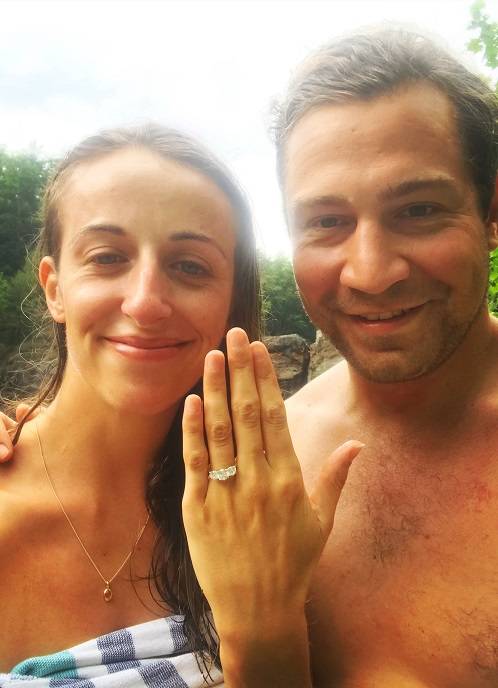 Dan and Rosie are an amazing couple whose love spans an ocean (literally). This English beauty met her match when he was living in London. Fast-forward 4 years, and they are now engaged and planning a wedding for June 2019.
How They Met:
---
Dan and Rosie met in London when Dan was living there, back in 2013. (She is English.) She told him on their first date that she was possibly moving to NYC for her job within 6 months, but that didn't stop them from becoming serious quickly. Once her move became inevitable and Dan knew that he was still happy with his job in London, they decided to try to make it work long distance.

Ironically enough, that's how the next 18 months passed -- the American living and working in London, and the Brit living and working in NYC. Lots of flights and lots of money.

Ultimately, Dan decided to move back to NYC to be with Rosie.
The proposal:
---
Dan and Rosie enjoyed an intimate engagement in Upstate New York in the Catskils. There is a secret swimming hole fed by a waterfall on Escopus Creek that they go to and love for its private beauty.
After a swim, Rosie was sitting on a rock looking out at the water, and Dan was ready behind her on one knee. He called her name, and when she turned around, he asked her to spend forever with him. They enjoyed the night out in the woods, and the next morning they drove back to the city to start telling family and friends.
Looking forward:
---
Dan and Rosie will get married at her home in Dorset in the English countryside in June 2019.
Congrats to you both! Thank you so much for your trust. We can't wait to hear more about your wedding plans!
---