How they met
---
Mia was Andrew's first online date. He had been single for a few months and had asked friends to help him with online dating. They were not short on advice and strategies, and he set up a very basic profile to get started. He matched with Mia on a Friday evening, started conversing Saturday morning, met for coffee later that morning, and then spent the next 3 days together. Upon the conclusion of their first "date" (can it be called a date if it lasts 3 days?), he wrote himself a note that said "I think I just met the woman I'm going to marry."
About the proposal
---
Mia's family is from Pittsburgh, and Mia's sister-in-law is a jewelry designer, so she and Henne were natural choices for help with the ring. Andrew had told Julie months prior to the proposal what he was looking for, and the two of them put together a beautiful ring. This process gave him plenty of time to both think about a proposal worthy of such an amazing woman and a truly incredible ring (not to mention engage in a hefty amount of misdirection!) He settled upon asking her on a walk along the river, specifically when they arrived at the Confluence -- where two rivers become one (Andrew is a sucker for some good symbolism). She threw him for a loop, however, when in the middle of the walk she asked her friend Lauren to join them. Andrew quickly decided that not only was this okay, but now he had the opportunity to surprise two people! When they arrived at the fountain, he suggested that they take a selfie and then pictures as pairs. When it was time for Lauren to take their picture, Mia posed while Andrew got down on one knee and Lauren, the deft photographer that she is, was able to snap a picture and then switch to video while exclaiming "OH MY GOD" repeatedly. Mia, not able to speak and in a state of *complete* shock, eventually went to accept the ring. Andrew had to remind her that she had to answer in the affirmative first before she could accept the ring! She chuckled, said "yes", and in doing so made him the happiest he's ever been.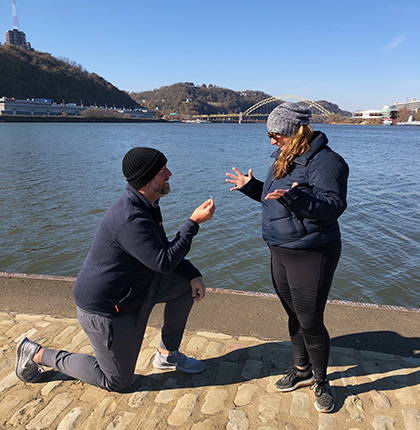 Looking Toward the Future
---
Andrew is finishing a PhD in economics at the University of California - Santa Cruz, and Mia is a vice president of global marketing for a tech company in Silicon Valley. Right now, their only plan is to enjoy their time together and to jointly figure out how they want to spend the rest of our lives.
We love celebrating our Henne couples. Thank you for sharing your #HenneMoments with us!
---